Bedroom

United States
October 30, 2007 5:37pm CST
What do you have on your bedroom walls?
4 responses


• Philippines
30 Dec 07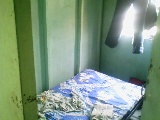 I have many things hanging in my bedroom. In the picture is the simple bedroom of a student from the province who newly arrived in the city and have not many things yet.

• Philippines
31 Oct 07
nothing...and oh, there was this stain on the wall due to leaks from the roof. lol! You see, our roof has a tiny hole in it such that when it rains, water drips through the ceiling and eventually stains the wall =)

• Philippines
31 Oct 07
I have a wall clock, 3 picture frames of bible verses and a praying hand and a big calendar for me to keep my updates and appointments. The wall is painted white on one side and the other half is plain wood.