Anne Frank and what if?

Australia
October 31, 2007 4:13am CST
I am absolutly fascinated by this young Jewish girl that wrote a dieary during her last 2 years spend in hiding. I often imagine what would have had happen to her had she survived. If she was alive she would have been 78 years old now. Would she have printed the book if she survived? Would she have been a jurnalist like she wanted? Kids, Husband all of that. Do you know much about her, do you ask your self some questions regarding her life. I am sure that every single story is just as sad and I am sure that we could aske our self the same questions about the other 6 million people or so. But She put a face to the whole sufering.
4 responses

• Australia
31 Oct 07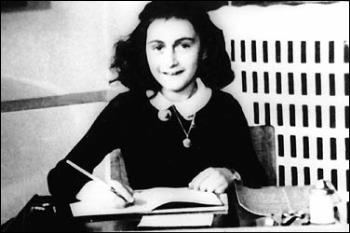 Yes I was fascinated by her story as well, I had three paper books on her and I loved the movie with Millie Perkins as the star, it is an amazing story, gee to think she would have been 78 years old, I never thought about that. Some how I think maybe she would have just gone and lived a quiet peaceful life somewhere safe, maybe.

• Australia
31 Oct 07
I have read most of the book about her and have few at home : the Biography of Anne Frank - roses from the earth by carrol Ann Lee, the diary of a young girl Anne frank, and Anne Frank beyond the diary. I am planing to buy as many as I can. The reason I asked about the diary if she would have published it is because she started to re - write the diary in order to do so but many people belive that otto was wrong to publish it. I think if it wasnt published it would have been a great loss. And yess she would have been 78 years 4 months 2 weeks and 5 days as she was born june, 12, 1929 she is 7 years younger that my grandmother and she is alive so I like to think that she would have been alive as well.

• United States
7 Jun 08
I think Otto was right to publish it,I heard that at one time he had held back like 5 pages of it because it was too personal.But I think if Anne could have known her fate and was asked she would have wanted it published.She would have wanted the world to know that she existed.I am saying this because after reading her diary you get a sense that she would have felt this way.There are many many books on the holocaust but this one is told as it is happening with great feeling involved.I would like to think she would have grown up to be a writer she seemed to be such a dreamer,and had a unique way of viewing the world around her. Jas

• Croatia (Hrvatska)
31 Oct 07
Hello, I am fascinated by her ,too.!!I can tell that I am a Fun because that ward is not appropriate but as a young girl she was my hero!!I learned about her life in school,I have all book about her life as you can find here!!Thanks for this discussion!Silvana



• Australia
22 May 08
yes I totaly agree with you I am sure she would have continued writing and if we take her writing in her dieary as an eg she would have been one good writer

• Romania
15 May 08
She did not put only a face to the suffering. She gave the suffering a soul, an image. She also gave a voice to those who suffered, she is the image of those who suffer from persecution. I suggest You should see a movie called "The Freedom Writers", see how Anne Frank helped some young American teenagers to change their lives, get out of the gangs and go all the way to a college education (story is real).