Update on Baby Bird Drama (with photo of eggs)!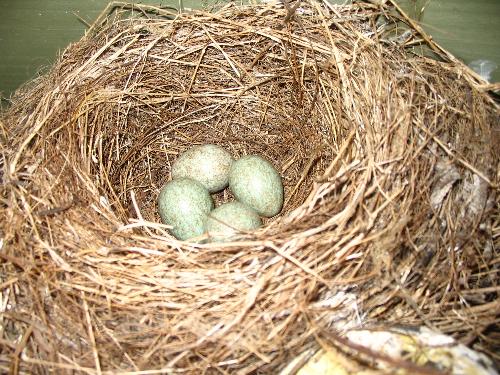 Australia
October 31, 2007 7:40pm CST
Yesterday I related the story of the Wattle bird in our carport. Today, I have finally loaded the photo of her eggs. Her remaining three babies are still in the nest, but will shortly be poking their cute little heads above the nest. Then it is learning to fly time. Now, the next exciting part of this story, is that much to our amazement, another bird built a nest right outside our family room glass sliding doors. This is some kind of small black bird. She also has four eggs. As this nest is so close to the glass, we will be able to easily see what goes oin without disturbing her. It really surprises us that birds are finding our yard a good nesting place, even with two dogs.
4 responses

• Philippines
1 Nov 07
Hi jennybianca! That is beautiful. Imagine you could witness a wonderful miracle of nature right in your own yard. I guess, your place is very beautiful for the birds to choose it for their nesting. Take care and have a nice day.

• Australia
2 Nov 07
I am not sure that my place is beautiful, but there are a lot of suitable nesting sites & plenty of feed.

• United States
1 Nov 07
Your dogs probably serve to keep some other predators away, and the birds know that. It will be great fun I know to see this bird up close and personal with hatching eggs and all. The dogs may eventually get used to the events, I am not sure. It is their nature to be predatory.

• Australia
1 Nov 07
That is a good point, as the dogs may well be keeping othe predators away. As long as the birds feel safe from the dogs, they kjnow there are mkny good nesting places in my yard. Aren't the eggs pretty?

• United States
1 Nov 07
That's awesome! You have an exciting wildlife habitat going on there.

• Australia
1 Nov 07
Yes, we have the native birds. Sometimes even lizards.

• United States
1 Nov 07
Well seems you have your own personal aviary there. I think that's the word. I rated and cokmmented on both photos also. Thanks. HAPPY POSTINGS FROM GRANDPA BOB !!~

• Australia
2 Nov 07
The second nest outside our family room glass door, has hatched. There are at least three tiny little babies. Mother is there frequently feeding them. When they are showing their heads above the nest, I will take a photo from behind the glass door.