Halloween trick n treat

United States
October 28, 2006 7:55am CST
This Haloween do you intend to allow the kids you know go trick and treatin on their own wherever they intend to? Considering the number of paedophilic incidents being telecast//relayed/highlighted by the media ........The cops here have released a list of people that have been convicted .....and are living in dallas metro area......Have you obtained the list I personally wouldnt want kids i kno to goto houses housing them weirdos:) or for that matter anywhere far off.....IDeally it would be nice if a parent/adult could follow them at a decent distance so that they can prevent any untoward incident ........and at the same time;let kids enjoy trickin n treatin Have a safe halloween
7 responses


• United States
29 Oct 06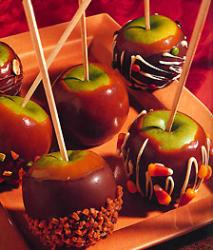 I think Halloween is definitely a kids holiday. The parent should go to the door with the kid. All kids should be accompanied by an adult.,

• United States
29 Oct 06

My kids are too young so I take them trick or treating. If they were older though I would be scared especially in todays world.

• United States
28 Oct 06
My son is way too young to go trick or treating by himself. Myabe when he is a teenager. There is a national websites (www.RegisteredOffendersList.Org and www.childsafenetwork.org) that hol;ds all of the pedofiles acorss the country. You could find all of the pedofiles in your area, without that list, down to how many live right on your block. People who have been convicted know that Halloween is a busy time of year for kids and that the cops are on the look out for them. Since they are not allowed around kids, they usually don't hand out candy (I am sure there are exceptions to this). I think you should be concerned about this year round, not just on Halloween.

• United States
29 Oct 06
/welll traditionally halloween is the only ime when it seemed like you wer eof the prying eyes of ya parents and you could freak out. the reality was differnt though since they still knew where you went and what you did on halloween almost before you did:) Well butwhat you say makes more sense ....since its not a seasonal menace :)......well teenagers goin trikn treatin was not considered as cool :) donno now

• United States
28 Oct 06
Let them go to Holloween party. Or parent should go with the kids.

• United States
28 Oct 06
I take my kids trick or treating. They are too young to go alone right now anyway but even if they weren't they would only be able to go trick or treating with a responsible adult in neighborhoods that we know.

• United States
29 Oct 06
thats a great option ...but u kno back in good ol days .....trik n treatin was all abt u and ur friends no parents ardn ..was a lot more fun with no parents etc to nag around(thats the reason i talked abt them being not exactly witht he grp)....but then u have to do what you think you need to :)