Book 3 release date announced!!!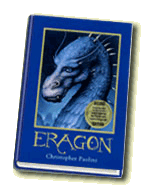 United States
November 1, 2007 8:08am CST
Along with other great and exciting news. For those Eragon fans out there, Random house books announce the release date for the 3rd book. Sept. 23, 2008. SOOOO far away, but soooo close as well. I am truely excited about this. Probably as excited about it as I was for the HP books. :) The other exciting news is, this won't be the last book. Paolini announced this on his website... http://www.alagaesia.com/kvetha/So... the story continues. I can't wait!!! How about you??
3 responses

• Canada
26 Dec 07
I saw the movie based on the First book. I did not think it was finished, so we are waiting for the Second movie to come out. I do not have much time to read, but I like some fantasy novels, but not all. I am mainly a mystery suspense romantic science fiction type person. But I love fantasy when it is in some far off place where everyone rides horses, there are beautiful princess, and the men have swords, and there is an evil overlord..

• United States
29 Jan 08
Hi Suspenseful! SOrry I took so long to respond back to you. The movie was OK, but it really didn't do the book any justice. If you enjoy reading, you MUST read the books. Just my 2 cents. :)

• United States
1 Nov 07
I have heard so much about Eragon, creematee, but I have never read any of the books. I will have to put the first one on my list so I can see what all of the fuss is about.

• United States
29 Jan 08
Worldwise, I've been off mylot far too long. I did want to respond to you, though, and let you know you must read the Eragon books. Paolini (author) was only 15 when he wrote the first one! That's so young to be so creative.

• Netherlands
1 Nov 07
Hi, Thanks for this discussion :) I will tell my husband tonight when he come from work. He also read Eragon. But too bad still far from the date 23-09-2008 ^_^. Myself, i don't read Eragon. I only read Harry Potter ^_^