What is one thing you've learned about life?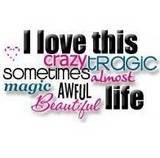 United States
November 1, 2007 10:03am CST
We probably all have been through one thing or another, either good or bad, and in the end of it, we usually, notice the life lesson about the sitution and things that you learned from it. What have you learned about life,a situation in your life, or how you feel about your life now?The One thing that i have learned about life is about taking chances and living everyday like it was your last...Life is too short to hold anything back.
3 responses

• India
2 Nov 07
Life has taught me ... i should be strong....cause life is extrmely harsh if you r not careful with what your doing... it has taught me to be humble.... tobe paitient and mostly if i need anything i must work towrd the sucess of accomplishment...

• United States
1 Nov 07
One thing that I've learned about live is everything happens for a reason and even if we don't see that reason right away, there is one. It's so hard to figure out things the hard way.. and keep a positive outlook! I try not to live in regret but sometimes it gets hard when things don't go the way you wanted or had hoped for.

• United States
2 Nov 07
yes i believe that everything happens for a reason, and most of the time you will never understand why it did....life does get hard at times where you just want to give up, but you just have to keep the hope and keep your head up...thanks for your response :)