Cool Crisp Night!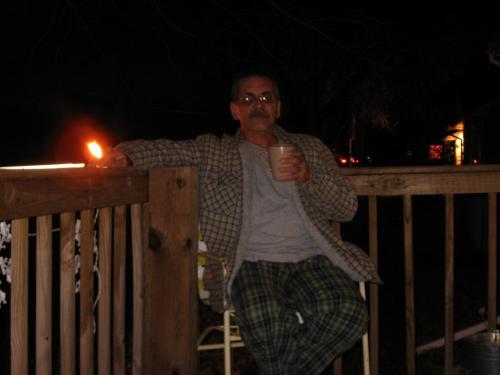 United States
November 1, 2007 11:29am CST
It was a loevly night Tuesday. I lit my Tiki torches out front. Made me a hot cup of coffee and sat outside. I figured it's one of the last few days left till the cold and snow comes upon us here in Minnesota. So I wanted to enjoy this evening just relaxing listening to the traffic and night owls flying around. I saw a couple bats as well. EEEEKKKK!! Hahahaha! What is the weather like in your area? If you experience the snow and cold are you ready and or prepared for the winter season? Do you shovel your snow? Or do you use a snowblower etc? Or maybe you hire a local kid to do this for you? Now days I would have to pay a kid about $40 to shovel my driveway. Unreal. I myself use a snowblower except for my front deck of course. HAPPY POSTINGS FROM GRANDPA BOB !!~
10 responses

• Australia
2 Nov 07
We're into daylight saving here so we're up an hour earlier than true time. The nights are still muggy till a couple of hours after dark. Today is a dreary day but not too hot and there's a breeze that becomes gusty. The flies have been terrible and since the rainfall last week the mozzies have now come out in force, hundreds attacking bare flesh whenever we venture outside. I've been using my mosquito net over my bed these last two nights. The heat and humidity leave you feeling sweaty, sticky and grubby so shower time is great, but as fast as you towell yourself dry, you're sweating again...and it's still a month to summer!!! I think we're in for a doozy.

• United States
5 Nov 07
Well it's Sunday evening now and it gets dark here around 5 at night. Ugggh. In a months time it'll be dark at 4 p.m. I hate it to a point but it's still okay I reckon. Sunday here was beautiful. I sat on my deck for a couple hours on and off after the sun went down till it started to rain lightly. HAPPY POSTINGS FROM GRANDPA BOB !!~

• Pakistan
2 Nov 07
O really nice to have snow falling, but I would add here that such season is much tough than others as one has to be confined in the premises, isn't it! People here at our place, use to visit the mountain areas in the snow falling season coming ahead. At our place it seldom happens so. Have a good day there GrandPa ~~ Aliasad

• United States
2 Nov 07
We as a people here in Minnesota thrive on the snow actually. It takes a LOT of snow to keep us indoors. We love skiing, snowmobiling and ice fishing. Snow just slows our trips down is all nothing else. HAHAHA!! HAPPY POSTINGS FROM GRANDPA BOB !!~

• United States
2 Nov 07
It was sooo cold here! We are in the 20's at night! Brrrrrrrr We live in the inland northwest and it gets really really cold here and we get snow! I like having 4 seasons. I lived on the other side of the state for over 20 years and joked that we had 2 seasons, wet and dry LOL I love having all 4 and it makes for fun times for my kids as we have different activities for each season.

• United States
2 Nov 07
Yeah we've had a copuple 20 degree nights. Going to get chilly next week with highs in only the low 40's. That means lows in the teens possibly. Minnesobrrrrr! HAHAHA!!! Or is it Minnesnowta? HAHAHAHA!! HAPPY POSTINGS FROM GRANDPA BOB !!~

• Australia
2 Nov 07
No snow here for sure. My 14 year old daughter is yet to see snow. It must get expensive paying people to shovel your snow, but it would be a good part time job for teenagers wanting to earn some money. We are in spring, and as usual, it varies from 15 degrees to 35 degrees. Today is mild & overcast. Surprisingly, it rained quite a bit yesterday. The garden is looking fresh. I can't wait for the heat.

• United States
2 Nov 07
Well with snowblowers getting cheaper there isn't a big market anymore for the kids to shovel. Besides most kids are so lazy around here. HAHAHA!!! HAPPY POSTINGS FROM GRANDPA BOB !!~

• United States
2 Nov 07
I brought my houseplants to the porch and covered them last night, it was probably our first hard freeze. This weekend we should have weather in the 70's, though. It is not time for snow in Kansas, usually, although I do remember once within the last ten years that we had at least four inches of snow on Halloween. We are supposed to clear our sidewalks within twelve hours of a storm stopping. I usually shovel. I am not sure why it is me and not hubby, but it is. The driveway is really long and it is gravel, so it does not get cleared. There is a little short area from the sidewalk to the street that we might shovel, as it is steep and it gets snowpacked from the snowplows going by. We live on Main Street and so are the first to get plowed after a storm. I am not quite ready for winter yet. I hope to light the chiminea this weekend and swing on the glider swing.

• United States
2 Nov 07
mY HPUSE PLANTS STAY IN THE HOUSE ALMOST YEAR ROUND AS THEY ARE JUST THAT, house PLANTS. bESIDES i HAVE SO MANY PLANTS OUTSIDE AS IT IS NOW. hahahaha!!! We have the rule of any snow over 2 inches must be cleared of city sidewalks within 24 hours. But guess what? I don't have any sidwewalks. HAHAHA! I hate the plowed snow from the street onto the edge of my driveway. That's always the hardest snow to remove. Grrr! HAPPY POSTINGS FROM GRANDPA BOB !!~

• United States
1 Nov 07
That sounds wonderful. Makes me want to join you. We have had cooler weather here in Florida that is right for sitting on the porch, but the mosquitoes are horrible! Hope you have some more good nights to enjoy your deck. Right now we are at the time when we can open the windows and air out the house. No AC needed, nor heater, yet. Good on the electric bill.

• United States
1 Nov 07
I am leaving the Tiki torches set up all winter so if there's a decent night I can sit outside sipping hot coffee, hot chocolate, or hot apple cider enjoying nature. It's been warm during the days here and I have had my windows open a lot as well. HAPPY POSTINGS FROM GRANDPA BOB !!~

• United States
1 Nov 07
It is sunny but rather cool here today. I will shovel your drivway for $34.95 and use my own shovel. Just leave the coffe pot on the front porch and a key to the out house. Thanks. I heard that because of global warming, there will be 84% less snow in Minnesota this winter. lol.

• United States
1 Nov 07
The coffee pot, the key, and the check are in the mail. HAHAHAHAHA!! Speaking of staticstics, did you know that 48% of all statistics are useless? HAHAHAHAHA!! HAPPY POSTINGS FROM GRANDPA BOB !!~

• United States
1 Nov 07
The days are getting cooler here in Illinois, west of Chicago, but it's still nice. Today right now the temp. is 47 degrees but it's sunny. We usually get quiet a bit of snow, but not too much until maybe December. We have a snowblower and we need it because we live on a corner and the driveway is too much to shovel.lol

• United States
1 Nov 07
We average 10.5 inches of snow in November. HAHAHA! Back in 1991 we got 50 inches, yes over 4 feet of snow on Halloween day. Well in a 24 hour period that day anyhow. It closed down Minneapolis even it was so bad. So I would say we get a little bit of snow now and then. HAHAHAHA!! HAPPY POSTINGS FROM GRANDPA BOB !!~

• United States
1 Nov 07
I'm in Boston and it's definitely cooling off now but I love it. Now I just need to get my son to put my 4 foot fan in the basement...lol...I live in a building that has year round maintenance so thankfully I don't have to worry about snow shoveling...yipppeeee!

• United States
1 Nov 07
Last night (Wed) it was about 40 degrees with a 40 MPH wind. So it was really cold. Poor kids trick or treating. HAHAHA!! I put plastic on the bedroom window to help in keeping the cold air out this winter yesterday as well. HAPPY POSTINGS FROM GRANDPA BOB !!~

• United States
2 Nov 07
I love the cool weather its a nice change. Oh how I wish we had a snowblower. My husband is the snowblower.LOL And at this house there is a pretty big driveway. YIKES How my husband is going to wish he had a snowblower.LOL