My Son And His Acorns!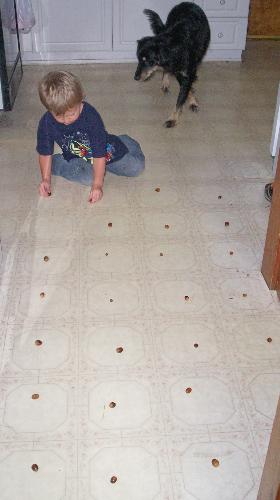 United States
November 1, 2007 5:34pm CST
My 3 Year old is obsessed with small things. He collect them and plays with them all the time. He can keep ahold of them for more than a week untill he finds a new small thing. His favorite small things are rocks and acorns. The other day he came home from school with a pocket FULL of them. I asked if they went for a walk in school. He said no he got them on the playground. He took them to the kitchen and lined them up one in each square of the tiles. LOL. It was to cute. I had to take a couple pictures. Do your kids do things like this??
5 responses

• United States
1 Nov 07
Awwww, that's so cute!......I so remember when my kids did sweet little stuff like that, they're not little anymore, but that brought back some memories. You know what might be cute to do?...If you want to that is, maybe you could put it in a small pot and let him plant one. This way you can teach him two things at once, how things grow and how to plant....he might get a kick out of it. Or, maybe you can have him make something with them and put them on your Thanksgiving table for all to see.....little turkeys or something, haha!.....I like fun discussions like this one.....take care.

• United States
2 Nov 07
Those are great ideas! Thanx! I will have to do that. I will let him pick a pot out at the store and we will plant one. You never know it might just grow! The turkey idea is cute. Thanx!!

• United States
2 Nov 07
You're more than Welcome...might be safer to plant more than one in the pot, haha, just in case, and hope for the best! As long as you both are having fun and enjoying each others company, that's all that counts!....Have fun!

• United States
14 Nov 07
Thank You so much for giving me Best Response!...It is much appreciated!.....Have a great night, I know I will now, lol!...Thanks again!

• United States
1 Nov 07
Yes my son does, acorns, small stones, leaves, and what not. I think its fun when he does that he seems to enjoy just playing with them :)

• United States
2 Nov 07
Hey what ever keeps them happy and out of trouble!! LOL

• Canada
2 Nov 07
My daughter is only 16 months so she's not quite there yet lol, but I think that is really neat how your son lined them all up! Good Job! Love & Hugzz, PurpleTeddyBear.

• United States
2 Nov 07
My daughter is almost three and she just went through a stage where she wanted to collect all these acorns. I remember when I was younger I had saved some acorns in my room in a container and somehow maggots grow in them or something, and ever since then, I remember that and I won't let my daughter bring them inside.