what is your fondest travel memory with your whole family?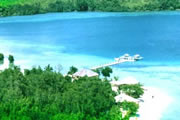 Philippines
November 3, 2007 5:57am CST
I didn't really have a lot of trips with my family because my dad was usually busy. We took day trips here and there but seldom did we have long trips. My fondest memory was when my whole family and I went to this small island and we spent several days there. It was wonderful because we seem to own the island since there were no people nearby. The sea was wonderful, the weather was great, I had a great time with my family. What more could I wish for? But that was all when I was much younger. How about you? What's your fondest travel memory with your family?
6 responses

• Canada
3 Nov 07
My fondest memory of of a family trip is the one we took in 1989. We drove from Nova Scotia to Florida, all the way down the entire Atlantic Seaboard! We were gone for an entire month!

• Philippines
3 Nov 07
That's great! An entire month is really a great trip! I wish I had that with my family too. Well, the memory is what we all have now. Thanks for sharing.

• Philippines
9 Nov 07
My family used to go on a lot of out-of-town trips when I was younger. But we have only gone on one trip out of the country as a whole family, and that was 6 years ago. We went to Hawaii and California and spent about a week in each of those two states. I guess I could say that was my fondest travel memory with my whole family. We enjoyed the beach in Hawaii, and had fun in Disneyland, California Adventure, Universal Studios, and we also got to see the tourist spots in the Northern California area like the Golden Gate Bridge. We had a lot of fun during that trip and came home a few pounds heavier because we kept eating a lot.

• United States
4 Nov 07
When I was growing up-our family was poor so we only went as far as my grandparents house in Arkansas-we lived in Oklahoma so that wasnt very far-but that didnt matter because at the time, when I was 11 or 12 years old-I thought I would die from boredom but looking back now-even though I have been a lot farther-I treasure those memories because they were the times I spent with my sister and my family-my sister and I used to go walking with our cousin who was about 8 years older than me-we would go down about a half a mile or so to the local trout farm that was a big attraction and there was alway a cold, clear stream that would run across the road. We would take off our shoes and splash around ankle deep in that and then walk back in the hot summer barefoot-trying to go as far as possible without our shoes-carrying them-to see how far we could walk without having to put them back on...

• South Africa
3 Nov 07
with my parents, the fondest memory was camping in a forested town in south africa, called Sabie. its the most beautiful place i have ever seen. my fondest memory for me, hubby and my daughter was in the same town this year, june.

• Australia
15 Nov 07
i can remember the day that i go to the top of a mountain to look for the sun set at Angkor land. The feeling is great and the view is so wonderful. It would be better if i can go there one again.... They used to aske me to go there agian but m so busy with my work and i am planning to go there once again during the new year of 2008.

• Cebu City, Philippines
9 Nov 07
We have not done that for pleasures sake, the travel that we made was rather a sad one coz it was the burial of my father and it was 13 years ago. It was not so memeorable coz for me it was painfull and not so worth remembering.