My New Babies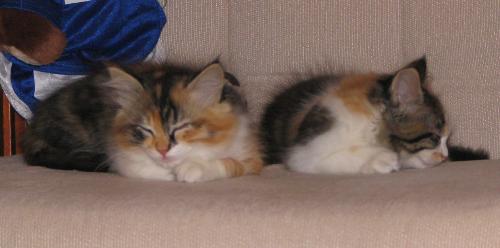 United States
November 4, 2007 12:09am CST
I just got two kittens about a week ago. (The weekend before Halloween.) Since I was getting two at the same time and from the same litter, I wanted two names that went together. I named them London and Sydney. They're kinda opposite of each other. Sydney's kinda more "out there" and has earned the name Syd Vicious. London's a lot more shy and wouldn't even let me touch her the first week. She finally let me pet her last night and I got her purring and everything. Then she took a nap on me on the couch with her sister. It's funny to hear them both purring at the same time. Here's a picture of them. They're calicos. Aren't they SOOOO cute?? Unfortunately, I don't have a picture of them together with both of their faces showing. They don't hold still long enough and even though they were in this pic cuz they were sleeping, one was facing the wrong direction! London's on the left and Sydney's on the right.
7 responses

• United States
5 Nov 07
Your babies are so cute. I remember when I first received my babies. They are so much fun, are they not? I am surprised that you named your kittens after cities.

• United States
7 Nov 07
Why are you surprised I named them after cities? I admit I've never heard of anyone named London (except on a kids' TV show), but I've heard of people named Sydney.

• United States
7 Nov 07
Well, maybe I thought that you might give them something more funny, like Cookie, or Storm, or Frisky, or... well, you get the point, right?

• United States
10 Nov 07
Yeah, I get the point. I guess I just see those names as names that everyone else always uses. I like to try to be somewhat different. My sister suggested I name them Okie and Dokie.

• Canada
4 Nov 07
Awe they are so adorable! How old are they?

• United States
4 Nov 07
Thanks! At the moment (November 3rd), they're about 9 or 10 weeks old.

• Canada
4 Nov 07
awe so cute! They are just the same age as my new Cat! Aren't they precious at this age!

• China
4 Nov 07
A bout 4 month ago I found four baby cat nearby.They were in a dirty carton,two white,a blike and a yellow one.How pity they were.They can not eat themselves,so I used a 20ml suringe to feed them.I bought powdered milk and feed them about 2 hours when they cry.After about three weeks ,they could ate a little soft foods.I have no enough space to hold them,so I help them find four master to have them in their care.If I have enough room ,I'll keep them with me.

• United States
4 Nov 07
That was very kind of you to take them in and help them out. Thanks for sharing your story.

• United States
4 Nov 07
Awww, aren't they just cuter than pie... i could just eat them up!!! I really love calicos.. and these two are real darlings.. I am jealous.. I already have two cats (well, one is really my mom's) and can't have anymore while staying here.. so hug those babiies for me, ok?? and Sid Vicious, I love it lol.

• United States
4 Nov 07
I absolutely love calicoes, too. There were only 3 in the litter and I knew I wanted them! Calicoes are my favorite and these two little ones are just perfect. Ok, their sister was too, but unfortunately, it's gonna be hard enough to afford two, so two is what I have. I'll definitely hug them for you.


• United Arab Emirates
5 Nov 07
Hi, I love kittens. They were my weakness when i was young. Now too i fall for kittens but i cannot keep one. they are just adorable and loving. you have chosen a good name. take care of poor kittens.

• United Kingdom
4 Nov 07
Congratulations on getting your two new kittens. They look so furry and sweet. I like the markings they have. They will be such good play mates for one another. I think that you have chosen lovely names for them. When I was a child I knew a lovely dog called London. Sydney is my favorite city in the world. These names go very well together. I know what you mean about them moving quickly and never staying still for long, like most young animals. When they are a little bit older you should be able to get some good photos of them. Enjoy your first few weeks together getting to know your adorable kittens. They are lucky to have found such a lovely home with you.