Using kids as an excuse.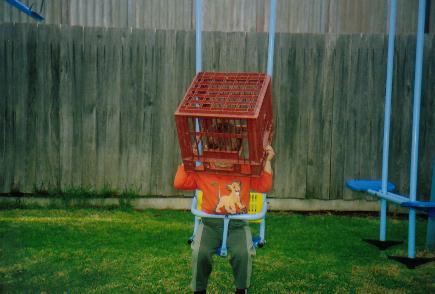 Australia
November 4, 2007 4:02am CST
Dou you ever use your kids as an excuse for not doing something. I do. Acording to me my son used to sleep 24/7 I used to use this excuse "he is having a nap" so much it would have looked like he slept all day. But many times I did not feel like having a drink out every day or going shoping so I had to use something and the most belivable was that. Do you do it and if you do what excuses do you have (come on people he is 4 and no longer has a nap I need new once)
3 responses

• Croatia (Hrvatska)
4 Nov 07
Hello,as polite person you need good excuse when you are not in good mood for some actions!!Excuses with children needs are always good!!He is older now and you can change your excuse !!You will find the best "on the road"!!LOL...Regards Silvana

• Australia
4 Nov 07
I am so bad at lying I cant make one up on the spot so if I cant say anything I have to do it. Once I told a friend I cant go shoping with her the next day because my son was at early intervention to which she said tomorow is wendesday not thrsday I had to say something like oh really me and my days and had to say yes.

• Australia
5 Nov 07
My question would be... Why do you need an excuse? But I understand the problem... People are selfish and won't take "No" for an answer. So if you don't have an excuse... they will be pestering you until you give in. So here are some excuses... - My husband locked me in the house. Cannot open the door to go out. - My husband has put a chain around my ankles. - My husband took all my clothes and I am naked. - I am busy changing the oil of the car. - I am in the middle of re-painting the kitchen. - I need to make a cake for my husband. - My husband left me with no money to put petrol in the car. My best excuse still is... I am buuuuuuuuuuuuuuuuuuuusy!!!!!!!

• Australia
5 Nov 07
I do know what you are saying but lets take my best friend as an eg. when she goes shoping it is so boring you want to jump from the 3 floor of the shoping center and kill your self. She would spend whole day looking for a pair of socks. while the kids cry and scream. So I have said few times lets go or things like that but she does not listen ( I dont drive so I have to wait) so instead of saying no i dont want to come with you because you are a pain in the a$$ I use excuse.

• Australia
5 Nov 07
So my next question is... Why do you put up with her? Does she provide you with some benefits for putting up with her? Or is she just using you?

• Australia
5 Nov 07
no I must have said something wrong. Its only the shoping that she has problem with otherwise she is great.

• Canada
4 Nov 07
Hi violeta-va,no ive never used this excuse with my daughter ever.Probably because i never go out and no one ever comes here and we are hardly never invited anywhere as we are quite quiet people and tend to bring her with us everywhere,haha.But if i had to,id probably would say "shes sick" or "Shes sleeping". Peanutjar:)

• Australia
5 Nov 07
well we do have lots of friends (and almost all of them have kids my sons age) so we do go out alot and all that so somethimes I really nead a brake.