Do people celebrate Halloween all over the world?

Canada
November 4, 2007 5:31pm CST
Someone told me that Halloween is an American thing, that they don't celebrate it in Europe. Now I don't know if it's true. But American or not, personally I won't mind dressing up scaring people off just for one night, I just don't want to do it alone or else someone will think it's for real and I'll be arrested. Do you live in the UK or Europe, so what do you do on Halloween night?
7 responses

•
17 Nov 07
Well, in the UK, we celebrate Halloween, but not as many people are willing to participate - however, I know that in the majority of Europe, people don't generally celebrate Halloween, I know that in a lot of very religious countries, they don't celebrate it because they feel it's somewhat paganistic (I don't even think that's a word, lolz).

• Canada
17 Nov 07
pagan is a word, but the other one I never heard of it anyway I'll take it as a word :) English is not my mother language so I guess I believe you


• Canada
7 Nov 07
aha! finally, a confirmation hehehe I'm gonna tell this person off (kidding) no I'll just say it nicely

• United States
6 Nov 07
i though halloween is celebrate in usa only too but hey if someone else want to get into the fun go for it, speicaly the girl, they are cute dressing up try to be scary lol

• Canada
6 Nov 07
in north america they do that too. but because most people here came from UK & Europe, I thought this was one thing they brought from there

• India
5 Nov 07
Hi LittleMel, I am from India and in our country we dont celebrate Halloween.A lot of people have actually never even heard of it.Even i dont no the exact story behind it. i just no that people dress up like ghosts and all.Thats all i no about it.

• Canada
5 Nov 07
I guess I can read more about it online, but the best part of it is that people dress up and have fun.

• Philippines
5 Nov 07
I dont know with the other country but here in the Philippines, we celebrate halloween by going to the cemetery, visiting and praying for our departed loved ones, or staying at home but lighting a candle at 6 in the evening for our loved ones and pray.. I believe that there are some who spend it in hallooween parties and etc. But I guess it would depend on the place...

• Canada
5 Nov 07
really. I don't know they celebrate halloween in the phillipines too. interesting.

• United States
5 Nov 07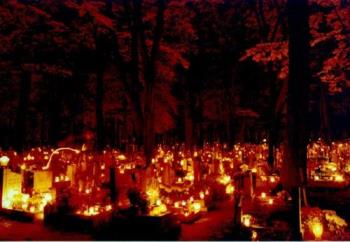 "The Eve of All Hallows"=Halloween is not celebrated in many countries. In Catholic countries people celebrate All Saints Day on November 1st. Next day, on November 2nd is All Souls Day for departed faithful who have not yet reached heaven. On November 1st, people visit graves of family and friends and place hundreds of candles and flowers. In many countries in Europe people have day off, it is national Holliday.

• Canada
5 Nov 07
so they don't celebrate halloween but they celebrate for the departed souls 2 days after. Interesting.

• China
5 Nov 07
Morning LittleMel. I am from China and we don't have this festival, let alone celebrate it. But so far as I know, Halloween is a nice and interesting festival for people especially for kids--treat or trick. I think that it must be fun in America when this festival comes.

• Canada
5 Nov 07
Hi williamjisir I do not celebrate it in my homeland either. Over here some adults dress up and go out with their kids, or if they don't have kids, they go to the pubs and have fun