Potty training a cat.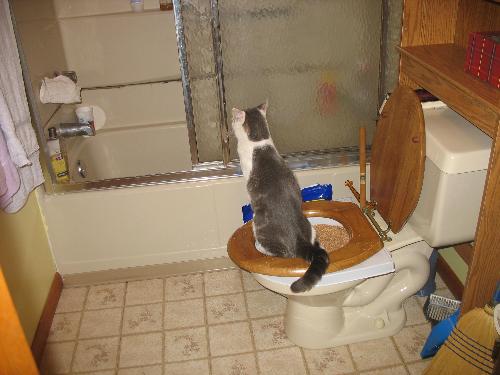 United States
November 5, 2007 6:58am CST
Has anyone tried to do this? I tried potty training my cat. It seemed to working fairly well, then I had a new baby and it was too hard to keep up with. I am considering trying again. Has anyone thought about this or tried it with success?
2 responses

• United States
5 Nov 07
Its not to difficult to do. My ex had a cat that was trained. He started with a litter box in the toilet. Once the cat got the hang of that he took it away and the cat goes in the pot. Its nice not to have the litter smell in the house. And with small children around..they get into everything! If you want to try again go for it. Show the cat where his litter box aka toilet is and he should get the point. Make sure though you put the litter box back after you go to the bathroom.

• United States
5 Nov 07
Is this something an older cat can learn, or just very young cats?

• United States
5 Nov 07
You can train older cats too! If there willing to learn that is. Some will and some wont. Just give it a try you might be surprised.

• United States
7 Nov 07
HI there...toilet training for cats can be achieved for any cats ideally under the age of 7 years (give or take a few years older). I used a sitz bath bowl to train two of my cats when they were kittens and are now 2 years young, but now found a product which has proven success called the Litter Kwitter sold worldwide : http://www.litterkwitter.com/en/ . The Liter Kwitter system also includes videos which you can view online first (which also comes with the product in a DVD) to show you step-by-step training techniques for each stage of the training. Here's the link to those videos under "Doogie's Training" http://www.litterkwitter.com/mediaGallery/training_movies.html I have begun training another cat who is 2 years old for the first time and she is moving quickly through each stage without too much apprehension. Patience is key when training cats to use the toilet. Some cats go quickly and others can take up to a year to learn. The Litter Kwitter system claims to get cats toilet trained in 8-10 weeks, but I've noted with other clients who has used this it can be awhile longer depending on the cats individual temperament, age, etc.