Is this the coolest Fall decoration or what?!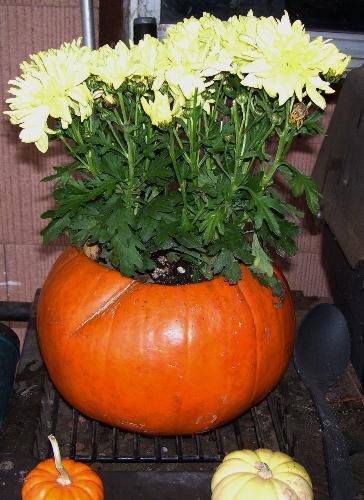 United States
November 5, 2007 10:28am CST
I'm sure some of you have seen or made this decoration before, but to me it's a wonderful "newfangled" idea. This was the centerpiece for each table at the restaurant where my family held the reunion/birthday party for my aunt. Some had the yellow flowers, and others had a variety of flowers in them. They were all garnished with a wreath of silk fall colored leaves, and surrounded by the baby pumpkins that you see in the picture. I just wanted to share it with all of you, in case any of you were like me and "imaginatively challenged" like me in the decorating department. LOL! Have a great day everyone! Hugs to all!
9 responses


• United States
5 Nov 07
I have never seen this before. Silk flowers planted in the shell of a small pumpkin. That's pretty thoiughtful and very nice as well. I love it. I wonder if it would work with a live plant? Hmmm? Thanks. I rated the photo and left a comment as well. I thought at first it was real flowers till I read the discussion. Hee hee! I look at the photos then read. HAPPY POSTINGS FROM GRANDPA BOB !!~


• United States
7 Nov 07
That is so origional. I have never seen something done like that before. I am one of the 'decorating challenged' people. fall is my favorite season because of the colring of the leaves.

• Canada
6 Nov 07
Hi Katlady, I have never seen anything like that before, but I really like it. How neat! Makes such a pretty decoration. Thanks for sharing. Have a good day! Luv & Hugzz, PurpleTeddyBear.

• United States
6 Nov 07
what a great idea and very clever as well,i love it.very pretty and very colorful.thats a very nice centerpiece too.thanks for sharing.pattie

•
6 Nov 07
They look wonderful hun, what a great idea. The other year I was lucky enough to find a load of holly and pine branches locally so I made my Yule decorations. The whole house smelled wonderfully of fresh pine over the holiday period.

• United States
6 Nov 07
That is a really cool decoration. I would have never thought of that. Thanks for sharing that with us.

• Canada
6 Nov 07
Hi Katlady2, This is so beautiful, and a very simple thing to do, especially for those of us who are 'craftily challenged.' Thanks for letting us in on it.:)

• Canada
7 Nov 07
You're welcome! By the way, I don't think 'craftily' is a real word, do you?:)


• United States
6 Nov 07
Thanks, hon! You've set me up with my Thanksgiving centerpiece! I'm thinking rusty-colored mums in 3 little WHITE pumpkins... set on some Autumn leaves. Tuscan gold tablecloth, rust colored napkins, my earthen plates... I'm so excited, I want to set the table NOW!LOL!

• United States
9 Dec 07
I had the kids take pics, but nobody kept them long enough for me to get them onto my computer! I had an ivory cloth, then the gold one... a basket of mums in the center, 2 white pumpkins with stripes(so cute!)with more mums stuck in them, then a rusty-colored spicy-smellin' candle at each end. We used all white earthenware... it was sorta breath-taking, if I do say so!LOL! I have my own camera now... lets see what I can come up with for Christmas!