Porky Pies? :)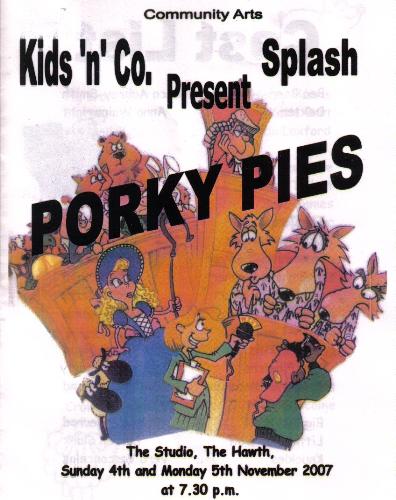 November 5, 2007 11:01am CST
No... this is not about everyday lies, but my Granddaughter!I went up to my son's yesterday, for dinner and my Granddaugher was as wound up as a clockwork soldier! Talk about nervous chat; she was really excited. The reason... it was the first night of her Splash and Co's November production! Lauren was to play "Little Bad Wolf", lol. Porky Pies was the name of the production, and it was based on a court case within the Nursery Rhyme world. The Three Little Pigs had brought a court case against the Three Wolves, Big Bad Wolf, Little Bad Wolf and Knuckles. Old Mother Hubbard, Bo Peep, Mary Mary, Polly Flinders and others were witnesses, and Tommy Thin, from Ding Dong Bell, Pus*y's In The Well, was the villain. The lambs and sheep were great, and the production quite humorous. I think that's about the best production I've seen so far... the acting was superb. I think some of these kids will go on to bigger things. One already earned a place in the British School of Drama... that was a boy who used to perform at the same time as my elder Granddaughter, Sarah. So, that gives an indication as to the quality of performance these kids give out. They're fantastic! They made their own costumes, and props... all credit to them! The only quibble I would have is that the first performance was on a Sunday, finishing at 9.20 p.m. which seems a bit late when the kids have school next day, and there's a second performance tonight, Monday. It's hard work at the best of times, but would, I feel, have been better organised last weekend when the kids were off school. Never mind... grumble over... I thoroughly enjoyed yesterday, and thought it was well worth a mention in here. Does anybody else's child, or grandchild belong to a drama school, or something similar? Don't you just love to go along and support them? It makes me so proud!:)
3 responses


•
5 Nov 07
You're right my friend... it doesn't matter what time, or day really. They all know what they're at and they make a great job of it. Indeed, I think quite a good percentage of them will make it to drama school. Thank you for your applause and Brightest Blessings, love and hugs to you, my dear friend. xxxxx

•
6 Nov 07
Yes, I do too, my friend. The kids have kind of grown together. Lauren has been there since she was five, and a lot of the group are the same kids who've stayed together through the years. There are one or two new ones, and one or two of her friends have moved away and left, but on the whole, they're like one big, happy family, and I've got to know quite a few of them too. They're great kids, and all have talent. I love to watch them. xxx


• India
6 Nov 07
Though my son hasn't done anything professional yet (he's only 7), he takes part in all the school plays. He's very confident on stage and I'm sure he can go places if he puts his mind to it. I always encourage him and his friends. I would support any creative inclination that ANY child has. Most of them remain wallflowers because we adults fail to appreciate them.

•
6 Nov 07
Yes, what you say is quite true. They need our support to build their confidence and they need our appreciation too. Having said that though, the group my Granddaughter belongs to gets tremendous support, from not only parents and grandparents, but siblings, teachers and the like. They really deserve it to. Well done to your son... it's good that he's gaining confidence through his acting, and very encouraging that he's chosen for all the school plays. He must be good at what he does just to be included every time. Brightest Blessings.

•
6 Nov 07
I wouldn't think it would go to your son's head, as long as he realises that there isn't an actor in the World, who doesn't need a support group around him. In other words, to shine, you have to accept the spark of other actors. If he appreciates the support actors he has around him, then he should go far. That's not to say you don't praise him because your opinion means more to him than anything. Good luck to your son, and thank you for your wishes for my granddaughter's group.

• Edinburgh, Scotland
5 Nov 07
Yes it is great to hear of good things that the young adults do at school and a credit to thier parents and grandparents too. Giving them your encouragement and support make them happy too and furthers thier mind to do better things in life. Well done from Deeeky.


•
6 Nov 07
Yes, me too, because I know that apart from the final rehearsals which are quite concentrated, and hard work... i.e. 10 a.m. to 5 a.m. on Saturday... the kids only get Saturday mornings for a couple of hours, to practice working together. They get to take a manuscript home, which Lauren was dying to show me! lol. From this manuscript, they have to memorise when to come on stage and when they come in with their lines, etc. Then, when they get together for rehearsal, it all has to fit properly. They really do very, very well considering their ages and the fact that they have school homework as well. There was also one little hiccup backstage with the sound effects, where the kids who were acting at the time had to improvise, and they did it very professionally and well. Yup, they sure make you proud, my dear friend!