Really Easy Kids dessert!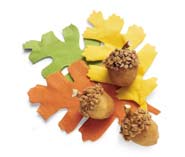 United States
November 6, 2007 11:12am CST
I was looking around for easy dessert ideas that my sons could help me with. I came across one called Dough Nuts. I thought they were so adorable and my son loves acorns so this looked perfect!! Heres what you need: Chocolate Frosting or Peanut Butter or both Donut holes glazed Crumbled Toffee Pretzel Now: 1. Frost a third or so of a plain or glazed doughnut hole with chocolate frosting or peanut butter. 2. Roll the frosted top in crumbled toffee, crushed pretzles, or nuts, then add a small piece of a pretzel for the stem. 3. Serve and enjoy!! It cant get easier than that!!! I have added a picture to show you what they look like. My son just saw and Freaked out!!! I guess im going to have to make a trip to the store tonight so we can make them! LOL!
5 responses

• United States
12 Nov 07
thats sounds like a great idea and i am gonna have to try that receipe.messy times are fun though and at least the kids will enjoy it.pattie

• United States
12 Nov 07
We made them last night. I got chocolate and plain donut holes. We used confeti frosting and crushed pretzles. They were easy and fun to make. They tast really good too! The kids were on a sugar rush the rest of the night!! They slept well once they finally went to sleep.

• United States
10 Nov 07
That sounds really good, I think my grand-children will love this I will try tis with them. Is this one of your own creations? Oh, by the way you are not far from me, I live in Ohio, I am about 1 hour from Erie Pa.

• United States
12 Nov 07
No I found it on some cooking site. LOL. We are about an hour south of erie. Thats neat. Do you ever shop at the mall? We do all the time especially around christmas and tax time. They have alot of good stores there. And alot of good resteraunts.

• United States
6 Nov 07
Those sound great. It would be a fun treat to make with your kids. I wonder if you could dunk them into melted chocolate. We might have to give these a try.

• United States
10 Nov 07
I dont see why not. That sounds good. We are going to make them this week end. Should be a good, messy, time. LOL!

• United States
7 Nov 07
They are really cool..the kids could make them real easy...

• United States
6 Nov 07
That's very nice! And would look great at a Thanksgiving table! And the kids would be so proud they helped!:)