This was the scariest thing I have ever had to do...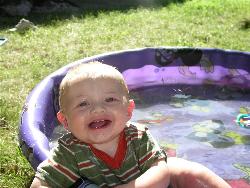 United States
October 28, 2006 10:28am CST
This morning my 11 mo old son was eating a piece of peach and started choking. I gave him 5 back blows and it still wasn't coming up so I did it a little harder and finally the piece of peach came up. My poor little guy was so scared. This was the most terrifying moment of my life. I know it could of been a lot worse but it was so scary. Has something like this ever happened to you? I can't believe how easy it is just to choke on a piece of peach. Thank God I saved my baby boy.
4 responses

• United States
28 Oct 06
Oh that's so scary, I'm sorry you had to go through that. My daughter is fifteen months, and she's choked a little before, but nothing that required that much effort to get out. I'm glad your baby is okay! It is scary, you never know what is going to get stuck in their little mouths.

• United States
28 Oct 06
Yeah it was so scary I hope I never have to do that again. My poor lil guy is still scared he doesn't seem like himself. Thanks for the great response.

• United States
29 Oct 06
First I want to say just how adorable your little boy looks!! :) I know how terrifying that it, I went through that today with my 10 month old and cherrios. I'm sure I'll experience similar situations in the years to come, but the thought of losing my baby - never want to experience it again. I havent let him leave my side all day. Hes fine, I mean, he wants to go and play and everything, but not without mama, not today lol

• United States
29 Oct 06
Thanks for the nice compliment on my little man! I know it is terrifying isnt it. I wouldnt' let my son leave my side either. He was scared after it happened he cried himself to sleep after it happend. It is something I want to never experience again. I know CPR too but i was still so terrified. Its unbelievable how you can choke on a slippery peach it amazes me. It was a canned peach so it was very slippery. Thanks for your kind words! Have a great night and I hope you never have to experience that again either!

• United States
29 Oct 06
How horrible for you...I'm so glad that your little boy is okay! You must have been frantic when the first tries didn't work. I've had a little one choke but nothing like you've described. I sure hope I never have to experience the fear you went through today and that you'll never have to go through anything like that ever again!

• United States
29 Oct 06
Thank you for your kind thoughts. Yeah I was frantic it was hours before I calmed down and my heart stopped beating so fast. I hope I never have to go through something like that again. I'm so glad he's ok and I saved my little boy!! Thanks for your nice response!