I Just Got A Fright!!!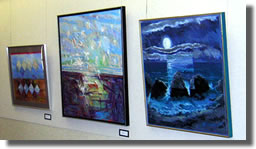 United States
November 7, 2007 12:28pm CST
I was sitting on the floor in the lounge typing away on mylot, checking emails and watching last night's show of "Biggest Loser", when the painting above the fireplace fell down. I got such a fright and let out a shriek LOL Just as well with that. Has this happened to you with paintings or anything else you have on your walls? I need to get bigger hooks or a stronger rope and or wire to put it back up again.
7 responses

• United States
7 Nov 07
LOL, that sounds like something that would happen to me. I'd scream too. My son was playing in his room the other day and he has this picture hanging on his wall that spells out his name and has a sentece to go with every letter of his name and it fell. He started screaming and come running out of his room. It scared him so bad.

• United States
7 Nov 07
Awww I hope he was ok :) I actually missed a line in my discussion - it should of read "just as well it didn't break or tear or else my husband wouldn't be happy with that" - that's what happens when I cut and paste things LOL

• United States
8 Nov 07
Yeah, he was fine. It didn't hit him or anything, just scared him really bad.

• United States
9 Nov 07
lol..I've had that happen alot especially at my fathers house. I finally bought him some new hooks that are supposed to be easy to stick in your wall and hold 3x the weight he needs them to. It is horrible when you are alone and something like that happens because then your imagination runs wild.

• United States
9 Nov 07
I know - makes me wonder if someone/something else was in the house LOL

• United States
8 Nov 07
Yes this has happened to me once. I was sitting in my room watching a movie and I had a huge painting oon my wall and all of a sudden it fell hit my floor it scared me so bad that I couldn't stop shaking for an hour I ALSO SCREAMED like a little girl.

• United States
8 Nov 07
I know what you mean especially if you are sitting in the room and its quiet then all of a sudden boom, got me scared too!

• Turkmenistan
8 Nov 07
No, what you need to do is call ghost busters. They are accurate and extremely confidential. I do not think that has ever happened to me, unless there was an earthquake or the music was to loud. Call 1-800-bust-a-ghost or go to rid-a-spook.com,LOL.

• United States
7 Nov 07
Oh that is scary! I hate when that happens. Maybe its someone trying to message you. From beyond!LOL No you probably just need stronger nails. Is the picture okay? Did it break?

• United States
7 Nov 07
No luckily as its my husbands painting he bought from somewhere. LOL

• United States
7 Nov 07
yes, i've had such a fright before! i had moved into an apt with a couple of friends during college. well one of the boyfriends was putting up all our shelving for us in the living room. said "he knew what he was doing", so FINE we stepped back and let "the man" take care of it. we should have done it ourselves, and i'l explain why in a sec...BUT my friend (who was his girlfriend), said he did it for her in her dorm room, and she was so impressed that he did it so straight and so nice (obviously didn't trust US to do it, haha). okay fine, but we could have handled it, REALLY. well so a few months go by, we take our time putting things up there, didn't overcrowd the shelves with junk. now we had left when he put them up, SO we hadn't seen that he DIDN'T anchor the screws. well, so one night, we were sitting out in the living room, eating dinner and watching TV, we heard our neighbor slam their front door really hard, which sorta made us jump a bit but then KA-POW, the shelves ALL fall out of the wall. we all jumped, one of my friends spilled her pop all over herself and the couch, i stubbed my toe cuz i somehow managed to jump straight up and hit my toe on the coffee table on my way back down, and we all just screamed. it had startled us so badly! so then we went over to clean up the mess, and that's when i looked in the holes in the wall, and saw no anchors...not even sure if he had hit a stud. oh man....it was a mess, and our hearts were racing, haha!!

• United States
8 Nov 07
hahaha sorry didn't mean to laugh so loud LOL even though that would of scared me too that was pretty funny that the guy didn't put them up properly huh? LOL

• United States
9 Nov 07
Hehe i believe you that it scared you pretty much. It would scared me too. the thing what scared me is our fridge , when I am sitting here on mylot , late at night and ice cubes fall from the frezzer. I don't know why I am not used it, but it always scared me. Hehe such a silly thing. Also our neighboor has a dog and when they go let him out he jump all over the balcony and I am scared someone is trying to come to my apartman.