Floyd Mayweather Jr. versus Ricky Hatton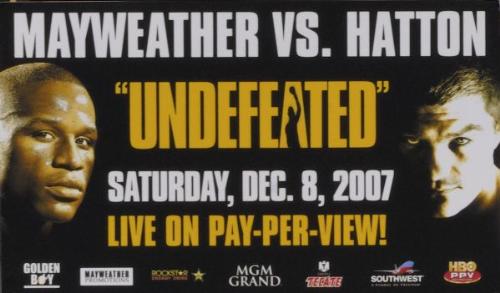 Philippines
November 9, 2007 11:11am CST
Both fighter are unblemish... Who will gonna lost the big "0"????
2 responses

• United States
10 Nov 07
Hatton's going to come out throwing his hardest punches to no avail. Mayweather will just block, and smother them and in the end Hatton will tier himself out. When he does that, maywetaher will just keep picking him off. I see another Gatti massacre. Only difference is Hatton will actually put up a fight until he starts breaking down. But anything can happen in boxing .

•
9 Nov 07
Hopefully the fight will live up to expectations, if it does then it will definately be a great fight. Hatton has been training hard for this fight and is in great shape. He will be the stronger of the two fighters and you can expect him to apply pressure on Mayweather by constantly coming forward. Mayweather on the other hand will probably rely on his slick defensive skills, hoping that Hatton will eventually wear himself out and then take the initiative. Expect the fight to go the distance, in the end though I think Mayweather will just take it, he has tremendous boxing skills and a good mind. Whatever happens though, it should be a close fight.