christmas fun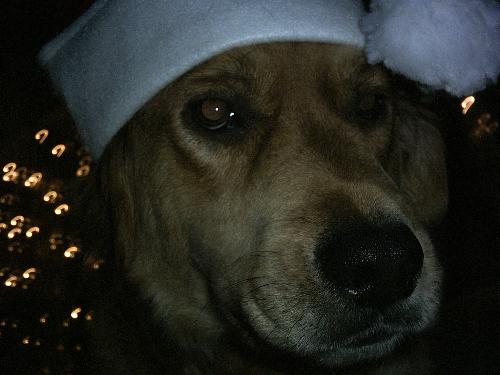 Canada
November 10, 2007 12:16pm CST
do you make your pets part of your christmas fun? do you buy christmas presents for your pet? I ask for the reason I do we get our two dog right in to the christmas spirit and some people think Im weird for it they have their own stocking and everything how do you celebrate christmas with your pets?
5 responses

• United States
10 Nov 07
My dog also has her own stocking and each year HO HO comes and visits her. She knows HO HO isnt real but when you tell her she has to be good for HO HO to come she knows. She prances around and gives you kisses and everything. Because she knows in her stocking there will be treats and toys. Also each year she gets a new ornament with her name on it and sicne it is an edible ornement. On christmas she gets to eat.:) But this is my first dog, that is mine and mine alone since I live on my alone now. So I spoil her rotten. My mom says I dont need to give her grandbabies she has a granddoggie. LOL

• United States
12 Nov 07
My mom has a picture in her wallet of Coco for she can show all of her friends and everyone eles. My boyfriends mom even has a picture of Coco on her wall. To think about it, it seems quite silly. But animals become part of everyones life. :)

• Italy
10 Nov 07
I have a cat almost 18 years old and he always gets some presents at Christmas. So did his mother all the Christmases that she lived through. He may only be an animal but he is a pet and part of my family so he gets to join in everything that is going on. He gets his special Christmas lunch too!

• United States
10 Nov 07
Hi, yes we include her. She has her own stocking, which Santa always leaves her goodies, and she has a Christmas collar. And she gets gifts from my daughter and my sister too, as I send their dogs gifts too. She loves to help unwrap presents so I have to wrap her's so she can have her own to unwrap Christmas morning. lol

• United States
10 Nov 07
I always include our pets in the holiday fun. Every year we get our dogs their own stocking which is filled with unwrapped dog treats. This way they can smell them and it's funny to watch them tear apart the stocking. We also have a few birds in which we just decorate their cages with toy christmas bells and make their perches red, so it looks like they are a part of the christmas spirit with us.

• Canada
11 Nov 07
thats so awsome you go all out i had a woman today tell me it was a waste of time they have no idea whats its for i don't think so my dogs know the differents between treats and christmas presents i cant even say it or they freak running around the house looking for them

• United States
13 Nov 07
You're sooo totally NOT weird for doing that, alot of pet owners do that! I used to give presents to my cats. and now that I'll be attending dog training school to become a professional dog trainer I'll have at least one dog that will become a part of my life & family, maybe even two. And I totally plan on dressing them up at halloween & christmas & giving them gifts & everything. It's fun, there's nothing wrong with it.