mischievous house cat pets

United States
November 10, 2007 8:52pm CST
can you mylotters give me your cute pet cat stories, of how they got into mischief in your home, what they did to make you laugh or giggle? i have 3 pet cats, one all black with a tiny diamond on her chest, one stripped female cat, and my first female cat all black & white. i just love to watch them play together and get into mischievous situations!! stanzi
4 responses

• China
24 Nov 07
I like dogs,but until now i don't have a pet, because my mother don't like me having a pet in home.

• United States
27 Nov 07
dear l...i have also, pet rabbits, which you can keep in a cage, so maybe your mother won't mind a pet in a cage...and you can take them out and hold them on your lap and give them treats...stanzi

• India
23 Nov 07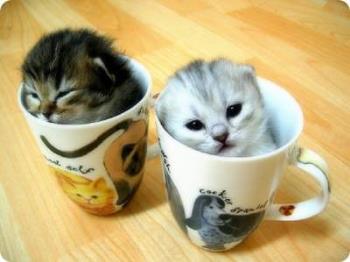 I love cats, but my dad doesn't allow us to keep pets in our home as we go on vacations 1-2 times a year and he says it would be difficult to carry the pets with us. So I don't have a pet. But my neighbor's pet cat is really cute and I play with her. I take long leaf or really thin stick and move it infront of her and she jumps on it.

• United States
23 Nov 07
dear s...maybe your dad will let you keep a bunny in a cage...i have 2 show rabbits, they are lopeared bunnies..the kind of bunny where their ears hang straight down...i had the 2 year old male show rabbit, and then i called the lady where i got the male (the lady has hundreds of show rabbits} and asked her that the next time that she went to a rabbit show to buy me a female show rabbit, which she did. i bred the 2 rabbits, and now the female is pregnant...it only takes 31 days for her to give birth from between one and 6-8 baby bunnies. but anyway, i was thinking your father may let you keep a mini bunny in a cage, like mine are mini bunnies, very small...and that way when you go on holiday, just drop off the cage of bunny at a friends and have them babysit the rabbit for you...they are the most affectionate pets, for sure...stanzi


• United States
21 Nov 07
dear hyzz, guess what?? my nickname for one of my cats, the black and white one is Mimi...i will tell her about your Mimi as a young boy...i am very happy that i met you today hyzz...you have made me smile...thankyou...stanzi

• Australia
11 Nov 07
Hi there stanzi2007! Well my ragdoll named "teddy bear" is a very nosey puddy cat. You open the wardrobe doors and he has to walk in and have a look. He calls me everytime he comes in and comes to find me. Follows me everywhere till i feed him, meows when he wants to have a fuss and chases my other cat out the house because he wants me all to himself mmmm if only he was a human!! lol. Oh and the times when my 3mth old cries - Teddy cries because my son is crying - how cute is that!

• United States
11 Nov 07
hi karinne, that is adoreable that Teddy cries, when your 3mth old son cries. cats do seem to have an affinity with children, and they are very protective towards them. sounds, too that Teddy is very protective towards you too!! i do wonder why cats like wardrobes so much, all my cats will pick and pick at the sliding doors to my bedroom one until they break into it, and then snoop around! i enjoyed hearing about your cats and have fun buying them toys, for the holidays!! stanzi