What do u feed ur dogs with, and how many times do u feed it???


India
November 11, 2007 11:21am CST
Hi all... I am sure there are a whole lot of people here who have dogs as pets.. This discussion is purely for them... So, tell me what do u feed ur dog with?? Does he like eating vegeterian, non-veg or a mix of both?? And how many times do u have to feed him??? Share with me people... I feed my dog with bread mixed with milk in the morning, and eggs and chicken in the evening.. I just have to give him two major meals a day.. Though smtimes, when he's a little more hungrier, I feed him with his favorite biscuits...
10 responses

• Canada
12 Nov 07
I have one dog. He eats canidae. We used to buy a cheaper food thinking we were saving money but after reading a bit we decided to give the more expensive food a try and realized it didn't really cost that much more because with the cheapest one the dose was 4 cups a day and with the expensive one only 2/3. So it ends not being as expensive as we thought, and the results are great. His skin looks better, fur is shiny, and his digestion is much better. I feed him twice a day, one in the morning and one at night and sometimes I mix some fruit or yogurt - he loves that.

• India
12 Nov 07
HI there.. U shud care for ur pet just like u do for ur kids.. After all, the dog has sacrificed his family to serve ur family for his entire life.. Don't bend on quality dear, it wud cost u even more... Neways, thanks for the response...

• Canada
12 Nov 07
That's exactly what I am doing. He is getting what is considered one of the most expensive dog foods on the market. He is getting that because we decided it was the best choice for him after trying and reading about other brands of dog food. Before ,I was feeding him purina which a lot of people mentioned when answering this discussion and a lot of people use. So, as you see, that is exactly what I am doing :)

• United States
11 Nov 07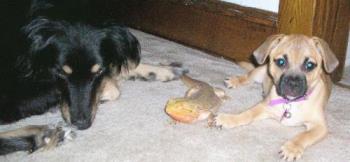 I have two dogs. One is 1 year and the other is 3 months. I feed them Purina puppy chow. They get two bowls a day. They like the colored pieces better than the plain brown ones. Dont know what the diffrence is but whatever. They eat it and are healthy. I also give them Milkbone dog treats. They get one when they go outside and if they were good while we were gone. Here is a picture of them. The black one is Star and the brown one is Hemi. The Lizard is Piston our Bearded Dragon.

• Australia
19 Nov 07
Ok, you should only feed your dog once a day :) Ask a vet, they will tell you that! Also, you shouldn't give your dog milk, it's not good for them! Dogs need meat but also cereals & vegetables so i feed my dogs my own little dog food - i make it every night! They get Pasta (or rice), mixed vegetables & either meat scraps or minced meat, all mixed in together to make a little stew type thing! Occasionally, i add in eggs to give them a healthy coat & at least once a week, they get meaty bones to help their teeth!

• Australia
19 Nov 07
Oh just for the fun of it - i thought i'd add in - the reason i make my dog's food myself out of REAL food is because the 1 thing i have always heard & been told is that you should never feed your dog anything that you wouldn't eat yourself! How many of you out there would actually eat the yukky stuff that comes in a can? I wouldn't!

• Canada
12 Nov 07
Our dog eats Purina One and she loves it. We have tried some other types of dog food, but she doesn't eat it as well as the Purina One. She also gets plenty of different types of dog treats too. Her favorite ones are Milk Bone Marro-bones. She just goes crazy for them. We ususally don't give her very much people food, just the occasional bit of meat. Of course if you drop something on the floor she eats it almost before it hits the floor, lol. She eats the strangest things. She has eaten onion, tomato, strawberries and all kinds of things I didn't think dogs would eat.

• Canada
13 Nov 07
Mine is a sucker for those marrow bones, too ..... those and beggin strips. And I'm the same way you are, I don't make a habit of feeding him people food, short of the fat off meat once in a while. Dogs can react so badly to a change in diet, as my last vet bill proved, lol .... so I don't like to play around with his more than is necessary.

• United States
11 Nov 07
I usually give her a bowl of dog food once a day, since she doesnt usually eat all of it. I just fill it up when it is empty(once a day). I feed her Alpo dry dog food. However if I am eatign something I will give her the leftovers from my plate a bite here and there. She is very picky. Her favorite food however is Pickles. If I get a her a happy meal or something. She doesnt eat the meat first she goes straight for the pickles. Very wierd by true. LOL

• India
12 Nov 07
LOL.. Even I do feed my dog with the leftovers while I am eating smthing.. He likes watching me when I am eating smthing.. He just always feel that I give him smthing from my meal, though he dosen't eat them everytime, very choosy indeed are these dogs... Neways, thanks for sharing...

• Canada
13 Nov 07
I feed my 2 year old shihtzu Katie Purina Dog Chow. My vet saw her on Friday and said she looks great ;) We feel her dish every night, and she picks at it during the night and day. Then by supper time the next night it's time to fill it up again. She eats about one bowl every 24 hours or so! PurpleTeddyBear.

• Finland
12 Nov 07
My dog gets Eagle Pack Holistic once a day. I'd feed him twice but he will only eat in the evening so I've started skipping the morning meal since he never eats it anyway.

• Philippines
12 Nov 07
my dog before i feed him w/ plain rice and corned beef i buy cheaper brand and i make it half the other half left is for the other day i dont feed him w/ chicken leg w/ bone only the meat because the bone of the chicken leg is sharp and can be dangerous to dog or puppy and my dog before like coffee also when i drink coffee i the morning i make for him also but not warm hehe:-)

• Canada
12 Nov 07
I have one dog. He's fed once a day, 2 cups of pedigree champion dry dog food mixed with one can of wet pedigree dog food. We had him on Beneful, but after contracting gastritus and costing us just about $600 at the vet, we threw it out, and quickly. According to my vet, Beneful has this reaction in a LOT of dogs. We had to do a ton of switching around to find the right mix of nutrients for him, but he's finally settled with what he's on now, and he's doing wonderfully on it.

• United States
12 Nov 07
I have two dogs. They eat twice a day. Small meal AM and big at night. They have holistic organic mix AM and vegetables with rice meat at night...mostly vegie and rice...just small portion of meat...