What's your favorite fruit?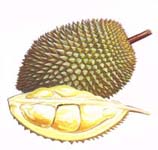 Philippines
November 11, 2007 9:15pm CST
I just started eating Durian a month ago and I can't believe I waited so long to taste it. It's deliciously divine. Sure it's smelly but if you get pass through the stink, you'd love the creamy taste of it. I can eat one whole fruit all by myself. But i try to limit my eating of it because it's high in fat. So what about you guys?
7 responses


• Australia
12 Nov 07
hi there browneyedfatima i like all different kinds of fruits i like more fruit saldas yummy the fruits i like is rock melon strawberries kiwi fruit bananas and apples are ok oranges i like in fruit salads thanks for your discussion have a great day

• China
12 Nov 07
i have never eat this friut durian,it smells not good,but maybe i will try to taste,my favorite friut are apple and strawberry.


• Philippines
22 May 08
Durian too... Like other said.. It smells like hell but taste like heaven... I love to eat durian fruit... aside from durian i also like magoes, rambutan, pomelo and water melon....


• Philippines
28 Apr 08
Durian's divine, exotic and very nutritious. Davao residents are very lucky they could have Durian fruits whenever they want at a cheap price. I live in Iligan and it sells quite expensive. It's one of my favorite fruits. I don't think it stinks. In fact, I love the smell. Whenever I smell its scent, it entices me. You should try. If the smell doesn't suit you, try to ignore it. Have a taste, it tastes like heaven.