I will be very happy to share goods from my garden with my on-line friends!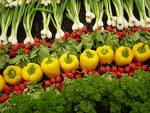 Croatia (Hrvatska)
November 15, 2007 1:43am CST
Hello Dear Friends!!I was in my larder and I start thinking haw nice would be if I can sent some off my natural and healthy food products from my land/garden,orchard,vineyard and etc./to all my dear friends from Internet as a Christmas gift!!In autumn my larder is full!I cant tell you how nice and strong smell came from larder!There are dry tomatoes, dry figs,dry carobs,olives black and green,all kind of apples and peaches, oranges,lemon,quinces,nuts,few kinds of vegetables like paprika red and green, potatoes, garlic,onion and etc.Imagine all that colours and smells!I am feeling sad because it is impossible to share it with you my dear Friends!I hope you will visit me one Day and taste some of nice products of my hands!Until That Day came,we can share our thoughts and feelings!You can tell me what goods you have in your garden etc,..What would you like to have from my larder?Warm Regards Silvana
8 responses

• Australia
15 Nov 07
I can just picture it and it looks wonderful. take a photo and send it to us so we can at leat see it that way and enjoy it. It wont be the same but that would do.

• Philippines
15 Nov 07
Hi, I must say that just by reading your discussion, I am getting hungry. LOL And I can really visualize what you are describing, and maybe imagine the smell, too! Yummy. It's a sight I have yet to see. I am sure you are a good cook, from most of your posts, you seem to love cooking and eating. You are very generous to want us to taste the products of your hands and you remind me of my late mother who loved to cook and she just cooked very delicious food. Unfortunately, we live in an apartment and we do not have a garden. But our home when I was still single, we had a tree of sweet sop, a tree of star apple, a tree of star fruit and I think some others as well when I was younger.

• Croatia (Hrvatska)
16 Nov 07
Hello Dear!Good Morning and thanks!Yes,i love all about food and I spend minimum six hours a day in the kitchen!I prepare two big meals everyday and something between!New fresh cake is on the table everyday!For supper we like to eat vegetables with olive oil and lot of cheese or fish! Have a nice Day Silvana

• Philippines
17 Nov 07
Thank you. Have a nice day to you as well! I am amazed by your passion for cooking and you seem to prepare so much food, it's like a festivity(= hehehe. And you seem to balance it out because you have lighter meals for supper and healthier, too. Way to go!

• United States
15 Nov 07
Mmmm, now as I finally toddle off to bed I know what I will dream of tonight! All those lovely vegetables. I will dream of a sweet potato sprouting and growing beautiful green leaves which make a pretty houseplant and are also delicious for nibbling. The peppers make beautiful house or garden plants, too don't they. No wonder you are such a good cook, with all those marvelous things. Have a wonderful day!

• United States
15 Nov 07
Oh, you have sweet potatoes? That's the only one we don't grow up here, it has too long a season. I love them, too.

• Philippines
15 Nov 07
wow! looking in the pictures makes me hungry.. i love your fresh vegetables and fruits! loving it.. i love to visit your larder but sad to say i'm very far away. i love to cook that's why i love also fresh vegetables it's very yummy.. and i'm very sad that you can't share it with us.. hihi

• China
15 Nov 07
Hello aaidjs. You are so nice a friend to us. I appreciate your being so nice and kind to us all for the enjoyment of your fruitful gardens. I am glad to know that you have such a great garden for so many plants listed above. They are all healthy food. I am sure that you enjoy your garden and the great harvest that you have. May your garden be fruitful all the year round, my dear friend. Thanks for your discussion very much. Good day.

• China
15 Nov 07
your photo attracts me very much .


• United States
15 Nov 07
You're very sweet! Glad you asked to be my friend and I accepted because your topics are cool! Dry tomatoes in the country are so-o-o expensive, that I've never tried any. I'm wondering if they're less acid than fresh. Chokecherries are very acid, but I dried some and most of the acide was gone, so I could eat them much better without stomach upset. Dry figs are expensive here, too. Love them! What kind of figs are they? I've had blond and mission before. Carob, I think is an acquired taste. Compared to chocolate, it would take some getting used to, but if I didn't eat chocolate for awhile... Love olives-black in salads and green pickled on the side. All kinds of apples, we have that here, too. Would be neat if we could trade apples, honey crisps are all the rage now. They're the new pair-apple, an apple that tastes like a pair at first. Very juicy and sweet. Northern NY, we can't grow peaches, oranges, and lemons and they really cost. I'd want some of those definitely. Quinces, my Mom used to grow Japanese Quince, but bind weed choked them out. Nuts, what kind? I love all kinds, but some I like more than others. Wow! It must be something to grow paprika. All kinds of potatoes grow up here and they're pretty cheap, besides, they would cost a bundle to transport (if we could that is). Many people are starting to grow garlic up here. I have 2 kings of onions in my garden that come back each year and I have chives. I think visiting your country would be very interesting. Is it stable right now or is there anything going on? Not that I have any money to go anywhere and probably won't for 6 or more years. Dreaming of food, what a way to spend a day! I hope you have plenty of food for the winter and that you are very happy and healthy. Take care