My Granddaughter's Birthday Cake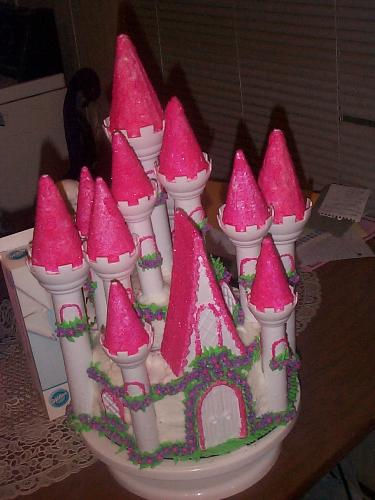 United States
November 15, 2007 6:28pm CST
My Granddaughter turned 5 this past Sunday and wanted a Castle Cake. My Mom is a cake decorator but I've never done too much with it. I spent about 5 hours total putting this cake together; with my heart in my throat the whole time. lol She was thrilled with it so I guess it was worth it. My husband took a picture of it with his phone and showed it to one of the guys he works with. Now this guy wants one for his daughter who turns 3 the Sunday after Thanksgiving. I have NO idea what to charge him. So here it is...what do you guys think?
7 responses

• Canada
17 Nov 07
Okay. That is just amasing! Your granddaughter must be a special little girl to inspire that. Usually for retail you add the costs and then at at 20%. So figure how much it costs you, then add an hourly wage for youself. and add 20%. $65 sounds good to me.

• United States
17 Nov 07
Thank you. And yes she's a very special little girl with a heart that you seldom see on adults. For the last 2 years I've lived in a different state than she and my grandson, so I was thrilled to do special cakes for them this year. :-) I wish I could add the picture of her face when she seen it the first time. lol

• Canada
17 Nov 07
I bet thats a picture that you'll never forget!

• United States
17 Nov 07
Wow, no less then $100 for your time..plus your materials..it is totally awesome.

• United States
17 Nov 07
Thank you Ms. Deb. :-) And thank you also for the work you do here on MyLot. I just wanted you to know I appreciate it very much. :-)

• China
16 Nov 07
Hi,there! That's a really interesting cake. The style is very special and it looks nice. Well done! I think your granddaughter was so happy to see that at the first sight! Well,it seems it took a lot of time and effort to accomplish. Well,you'll need to do another one for another little girl? That means your work is highly remarked by others.Isn't that sth you can be proud of:) If I were you,I wouldn't charge him cause I would feel happy to do that and to see that my design being appreicated by others.LOL!

• United States
17 Nov 07
Thank you. I agree that it does make me feel good to have my cakes appreciated by others but I can't make cakes for everyone with our finances as they are.

• United States
16 Nov 07
WOW! Great job on that cake! I have been wanting to learn more about cake decorating. But the nearest classes are an hour away. I am a stay at home mom so paying a babysitter for a one hour class that would involve 2 hours of drive time would be dumb. So I am just going to try to teach myself. I have a soon to be 5 year old and another bundle on the way. So I will surely get my practice!!!

• Belgium
16 Nov 07
Hi there. You really did a good job with that cake. I hope I can also make something like that. Regarding the cost that you should charge, I think you need to calculate about how much you spend on the ingredients to make the cake, and of course the time you will spend on making that wonderful castle. Few years ago, I also made some birthday cake and sold it, but not as beautiful as yours. Normally for friends, I gave discount prices, it is also so kind of promotion for me to introduce my cake's business. :)

• United States
17 Nov 07
Thank you. To be honest I never thought about starting a cake business. When my Husband called and said that the guy wanted one for his daughter it threw me for a curve at first. lol But the last couple of days I have discovered to get a cake anywhere close to this cake you have to drive to a bakery an hour away. So I might need to start thinking about it a bit more seriously.


• United States
16 Nov 07
Thank you. :-) I have to admit that after I finished it...it brought a smile to my face and the look of total shock on her face really made the work worth it.

• United States
16 Nov 07
Wow, you did a good job on the cake. I have no idea what you should charge for doing one for someone else? Did it cost a lot to make? The next one might take less time because you have done it before. I hope someone else can give you an idea of what to charge, cause I am not sure. I have never bought a cake. I always make my own.

• United States
16 Nov 07
Thank You. :-) No the cost was only about $10 because I make my own icing so that is a bit cheaper than buying the can stuff. I happen to get lucky tonight when I went to the store they had the cake mixes on sale for buy 1 get 1 free (it takes 4 boxes to make this cake). I sure hope you are right about the next one taking less time. lol I'm behind in my article writing and need to catch up before the guy fires me. :-(