Can Man count on his Superior Brain to avoid Global warming related extinction?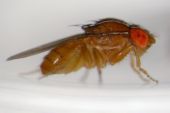 Uganda
November 16, 2007 3:14am CST
Man has barely been around in this world for more than 100,000 years. But your science will tell you the fish and other reptiles have been longer dwellers on earth stretching to close to 100 million years. Today I learnt that scientist have discoveed that a Fruit Fly in the usually temperate zones of the northern hemisphere has began to adapt to the harsh conditions of global warming to avoid extinction. Can man survive a world so stressed by global warming? Could he manage the rising sea water levels as a result of the melting of ice and high heat on the bear ground couple with drying of fresh water bodies? Is he that brainy to avoid extinction?
2 responses

• United States
16 Nov 07
The answer to this question is yes and no. Yes, the global warming which can be expected over the next few thousands of years can easily be dealt with and mankind is in no danger of becoming extinct. No, the global warming which can be expected over the next few millions of years as our sun, a star, goes through its normal life cycle can not be survived by man unless we leave the solar system and find another suitable planet. I don't think we'll make it. Long term surival in space does not seem possible for humans.

• Malaysia
16 Nov 07
One thing that man is very capable of in this world is to destroy it and we do not need global warming to throw us into extinction if we damage the earth at the rate that we are going now.

• Uganda
16 Nov 07
I see very clearly what you mean shakeroo-eonomic imperatives have blinded man from responsibly exploiting the world envionment, we are now behaving like an insane man that climbs up a high tree and frantically begins to cut down the very branch he is perched on!!