India won!With Pak.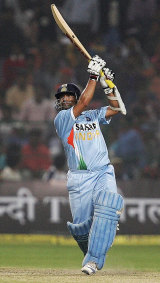 India
November 16, 2007 3:37am CST
India won by 6 wickets (with 21 balls remaining) Played at Captain Roop Singh Stadium,Gwalior, on 15 November 2007 - day/night (50-over match). How do u feel.and comments about this match.
2 responses

• India
16 Nov 07
It was just an awesome display of skill as india outplayed pakistan to win the match and the series.infact pakistan also contributed to india's victory .they really played ver bad cricket.their body language showd that they were never in the game.and not to forget awesome batting display by sachin,yet again he gave a gem of an innings and entertained the whole crowd.he really set the platform from where india cruised to victory.also bowlers contributedd well,they took wickets at regular intervels that kept a block on the run flow.overall it was a very good performance from indian team.

• India
16 Nov 07
dat was a good game. india was dominating throughout the game. but i felt sorry for pakistan