tendulkars nervous....

India
November 18, 2007 7:10am CST
hi ppl...wat v have to do for tendulkars 90's nervous....could u plz share abt tat and ur opinion to remove his nervous after nineties....
2 responses

• India
19 Nov 07
Well , i think he is more serious about making his century rather than winning the team at these times . Ya i felt it many times , at first he play his natural game , but when he comes close to the 50's or 100's he plays slowly . This is what happens all the times . I think he should stop this habit - then he will be alright and will be as he was before "THE MASTER BLASTER !!" . hey... :)

• India
18 Nov 07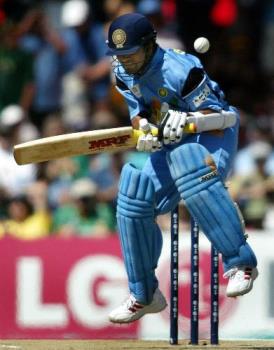 I doubt is there anything that we can do about it other than pray to god that atleast next time he reaches to that magical three figures.i think if someone has to remove that nervousness thats only him and nobody else.what really surprises what has he got to be so nervous about when he has crossed it already 41 times in odis and more than 35 times in test.i think his nervousness would be his thought if he could get to his 100 atleast this time when he is in nineties.i think now when he is in his nineties,what his mindset should is that i dont mind even if i dont get my hundred i am going to play my natural game.if he goes out with that thought,i dont think he will be having much trouble with his so called nervous nineties.i think its just a matter of time when he would register his next hundred.i hope it would happen in this series itself.