Any spider experts here?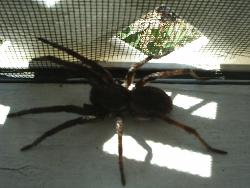 United States
October 28, 2006 3:30pm CST
I am terrified of spiders and found this huge one on my porch this morning. Can anyone tell me if it's a brown recluse? Not the best pic but I'm hoping you can see enough to say. My husband said that it had"fangs".
4 responses

• United States
28 Oct 06
I'm also terrified of spiders. I know that one is not a brown recluse (and boy are they bad) or a black widow (another bad one), but I'm not sure what kind it is. I would have called my husband to kill it also. I used to have horrible nightmares about spiders spraying me with insect spray after I'd tried to get rid of some by spraying them. Now I just let hubby take care of any we see....big or small...it doesn't matter. I don't like them at all. I sure hope I never see one with fangs...I'd probably faint. Uh oh...I just read online that ALL spiders have fangs. Wish I'd never looked.

• United States
28 Oct 06
I didn't know they all had fangs! I try not to get close enough to find out. We have a lot of black widows around here. At least with them, you know what they are by the red hourglass shape. My biggest concern was if it was poisionous. My cat was actually playing with it!! Thanks for your response!!

• India
28 Oct 06
Disgusting it doesnt sounds like a brown recluse though

• United States
28 Oct 06
Um, no that does not look like a brown recluse. That looks exactly like the spiders we had n our last house (hence it being our last house and not our current house). Terminex told us they were tarantulas. (I threw a dictionary at the one I saw in my kitchen ... didn't kill it, so I tossed a bowl over it and called teh exterminator. YUCKY!)

• United States
3 Nov 06
The spider you see here is acyually a Wandering Spider and can inflict a painful bite. The spider is harmless and it's bite will just swell up and itch for about a week.