do you bite your nails??

Philippines
2 responses

• Malaysia
19 Nov 07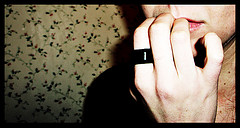 Hello joahnna. I do bite my nails when I was a kid. I noticed that. My mom always scolded me when I did it. Its happen when we have some problem, and its related to psychology. If it too much, your friend need to see a doctor!HAPPY LUCKY.**prettyhanan**

• Philippines
19 Nov 07
oh really thank you for your advice.. i will tell that to my friend:)

•
19 Nov 07
I bite my nails too. Mostly when I'm stressed out. I hate it, I used to have acrylic nails put on but then I started biting through them too and it was costing me a fortune. I guess I'm never going to have nice nails!

• Philippines
19 Nov 07
really! you can't stop your habit? yes it's true your nice will not become nice to look because of the biting.. thank you for posting.