who is the best middle order batsmen in the world in test cricket

India
November 19, 2007 7:27am CST
for me its adam gilchrist who plays so well at no.6 for australia and still hits lot and lots of runs
7 responses

• Pakistan
19 Nov 07
I also may have said Adam Gilchrist or may be Jack Kallis... But during last two years, the way Pakistan's MOHAMMAD YOUSUF has played, i will call him the best middle order batsmen currently... In 2006, scoring highest number of runs in the year in the test cricket history is a wonderful achievement. He scores hundreds much regularly and easily and capable of converting them to big hundreds. he is very classical and superb player of spin. his footwork is amazing. The only problem i feel is his running between the wicket... Nevertheless, with the current form and touch, MOHAMMAD YOUSUF for me is the best among all...

• Ireland
19 Nov 07
micheal beaven of australia is best bastmen and finisher in middle order and now it is yuvaraj singh

• India
20 Nov 07
it is quite hard to take decision on this matter as this also depends on the form of the batsman...now a days yuvraj singh is in great form where as earlier i considered adam gilchrist..but you see we cannot forget klusner of south aftrica..middle order batsman have a great responsibility on them..in the recent series of india and australia...i could say symonds and yuvraj to be the best middle order batsmen in the one day and test cricket

• India
19 Nov 07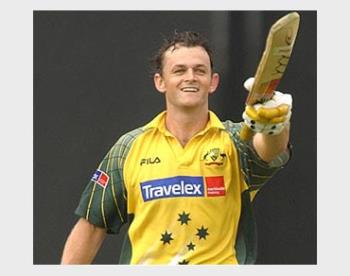 Even i feel gilchrist is best among the lot.as you said his high scoring ability always helps his team to pile up a lot of runs just before declaration.what i like the most is his ability to adapt to the situation.the most important wuality of his batting is he never lets bowlers to settle in their rhythm and always plays an attacking cricket.when his team is in real trouble he consolidates the team plays an anchor role and take australia to a great score.there has been many occasions when his one man performance has taken australia to victories.he is one of those guys in world cricket whom every team in cricket would love to have.infact what really attratcs everyone is his ability to accelerate the scoring whenever its required.on his day of form,he can only be out by his mistake.his performance would be a key in the coming series against india.

• India
20 Nov 07
yes he is a fine player and he makes a lot of runs but i always feel hussey is a better pick than him and also he is more consitent than him. but then both have different roles to play. adam has the role to kill the attack and hussey is calm and col kind of player who makes the game for you and that is why i think they both are a deadly combination and when they are on song then it is bad news for the opponent team.

• India
20 Nov 07
i would say the best middle order batsman is BRIAN LARA as he is the only one in the west indies team who played so consistently and served his team for so many years and has so many records to his name.It was his bad luck that he played in a team which was at low in latter half of his career but still he made sure that he will be playing for his country and made the 400 runs in the test cricket and he is the only one to do this in test cricket.He is really a great player.

• India
20 Nov 07
Well The best player in the middle oerder cant BE No One else..The Wall Of India...i.e Rahul Dravid... He is Rock of GIblator for india.. For so so so many times... he HAd Taken India from merely Defeat To suprising and glorious Victory.. I Think no one match him his technique.. Though he may not be hitting as The sixes as Adam does... But He more thean often takes the Indian Ship To Safety.. Wht He has done for the indian teamm i think no one can do.. he is rock solid... Salute to Rahul dravid For His contibution to the indian team..