Enjoy quality time with your dogs..

Indonesia
November 19, 2007 10:54pm CST
I came back from tired and stressed work, it seemed the world is spinning very fast, and i can't get a break. Coming home, there was my dog. Come after me, seemed very missed me. And she spun and spun very happy to see me. Man, I found that the world was getting better now...LOL. I enjoyed my time with my dog, played with her and have laugh seeing her being so silly sometime. Have you ever felt that way ? Please, share your story with your dogs, mylotters !!
8 responses

• China
24 Nov 07
i like dogs,your pets and you are lucky, because both of you is happy with each other.

• Indonesia
23 Nov 07
You are right jc_star10, Dogs are make our tired disappear after long hour of working. I had the same experience as well. Rado, the dog that living with me waving his tail every time i come home and seems so happy to see me. Its nice that i got the feeling that i was needed :D

• Philippines
21 Nov 07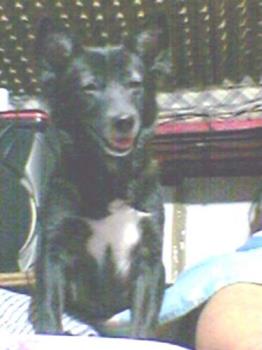 My dog whoppie? She's very smart and sweet she's always stay whenever where I am like now I'm here in my computers she's here also at my side sometimes she wants to sit on my lap. She likes playing ball she brings her ball to me and sometimes to my daughters as a sign that she wants to play. She made us happy all the time specially when I'm lonely and sad I talk to him just to expressed my feelings. I treat her like a baby to me. And I love her. I add a picture of her.

• Australia
21 Nov 07
I laughed at our story. It is so similar to one of our dogs. Our Dalmation gets very excited when we are with him. He gets particularly excited when he has a toy to play. Some of these toys he wants to "kill". So he will grab the toy in his mouth, & shake it from side to side. Whilst he is doing this, he runs around & around in tight circles. We always get a laugh out of this. I am sure your dog really loves you.

• United States
21 Nov 07
They get so excited when they see you. Jumping, tail wagging, ready to lick us to date. My daughter has rat terrier and 6 month old chocolate brown lab. They get so excited when they see any of us in the family. There is no way you can be stressed and/or in a bad mood. They can really make your day.


• Malaysia
20 Nov 07
Hi jc_star10. Your discussion make me share your happiness that you really enjoy with your dog even though I have no pet animal but always enjoy and happy with my ceiling fans. Once got home I started switches on all ceiling fans and enjoy it spinnings...LOL!!! HAPPY DAPPY.

• Australia
20 Nov 07
This is the joy of having pets, they do love their owners with out a doubt, I have a cat and even though he is not the most openly loving cat when ever I come home he rolls ove and over it is his way of showing me he is happy to see me, doesn't it make you feel good.