Quotation, How true it is?? want to know ur opinion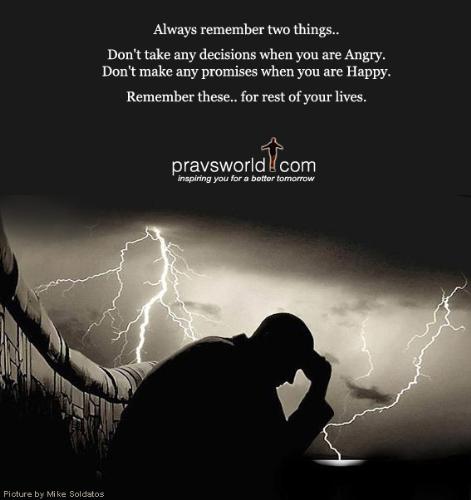 Pakistan
November 21, 2007 2:50am CST
Hi friends, i was reading a Quotation Dont take any decesion when u r angry Dont make any promises when u r happy how true it is, what are ur comments and opinion, and do u have any experience?i am sure about first one as its 100% fact waiting for responses Regards
3 responses

• Saudi Arabia
26 Nov 07
Hey dear.. I think both quotes are right.. when we are angry we absolutely say things/make decisions that we regret later.. and when we are happy we may accept doing/saying things that don't match our principles... for me I don't make decisions when I'm angry but I might say/do things I don't like when I'm happy... I think I have to control this more :p

• Pakistan
26 Nov 07
Hi Dew thanks for nice resoponse u r very right, when u r angry or u r very happy, its extreme position of emotions and during that u might not think rationally and result in wrong decesion/Action, its always recomended to think before deceide and analuse it again before doing, so always take action or decide when u have ur nerves in control,so that u dont have to regret u afterwards. take care thanks for sharing ur week point, i need to make u happy so that u can promise me something, wink wink c ya

• China
26 Nov 07
Hi there! I think the quotation is true and it is very good advice, too. When you're angry your emotion might get out of control hence you may make a decesion that you'll regret later. And when you're happy, you kinda lose the ability to see how things really are. All you see is happiness around you. If you make a promise based on this, you might regret later, too. So all the quotation wants to show us is to be careful in making decesions.

• Pakistan
26 Nov 07
Hi Doll (nice nick) thanks for nice resoponse u r very right, when u r angry or u r very happy, its extreme position of emotions and during that u might not think rationally and result in wrong decesion/Action, its always recomended to think before deceide and analuse it again before doing, so always take action or decide when u have ur nerves in control, and u dont need to regret on ur decsion/action later on take care

• India
23 Nov 07
In my opinion some say goes very much true with our life and some are only for saying and cannot be practiced when comes to real life..its just a written statement.. But coming to the quotes that you have mentioned ..true that the first one is absolutely right as when we are in angry mood we forget to analyse certains aspects and take wrong decisions for which we retaliate later..thats is why we need to think a lot before we say anything specially in times of anger.Its such an emotional moment and our mind is not focussed in a right path.. when we promise to someone we need to carry on with that promise and do as we said..we should not break promise as its like breaking the trust..

• Pakistan
23 Nov 07
hi Subathra its great to see u active on mylot after long time. you are very right about this particular quote. Anger take sense away and any action decesion taken during this rage result in regrets (in most case) so we should control our anger and think twice before deciding any thing. same goes with Excitement, if u r really excited and make promise then again its not good as in excitement u made promises which are difficult to keep, and as u said if u break its like breaking trust, so why commit anything which involve risk of shatering Trust so being moderate, both extremes are not good, be in us sences and incontrol in both events take care