Playstation 3 or Nintendo Wii?

United States
October 28, 2006 5:12pm CST
My husband wants the PS3 but I think the Wii looks cooler.
5 responses

• United States
28 Oct 06



• United States
28 Oct 06
I want a Nintendo Wii. I currently have an XBox 360 and I am hooked on that right now.

• United States
7 Jan 07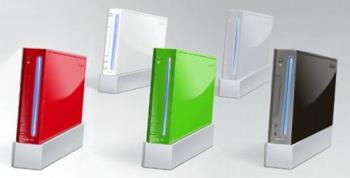 Trust me on this when I say the Wii because not only is it like so much smaller, so much funner, and so much better, it's so much cheaper. And yeah so the PS3 graphics are better but the controls don't vibrate, you can't play PS2 games on it, and the R2 and L2 buttons are weird! Wii is much much cool! I have actually lost weight playing it. The games are cool and they are same price as before, 50 bucks. The Wii is also beating the PS3 in sales and the 360. All controls are wireless, the classic one too, you just have to connect it to the numchuck remote. I got Need For Speed Carbon, Call Of Duty 3, and Metal Slug along with Wii sports, it comes with it already. It also plays Gamecube games. Their also coming out with different colors for the Wii. Do it as a favor to me and get the Nintendo Wii please! Better answer? Yes?