My dear friends!!I am so tired!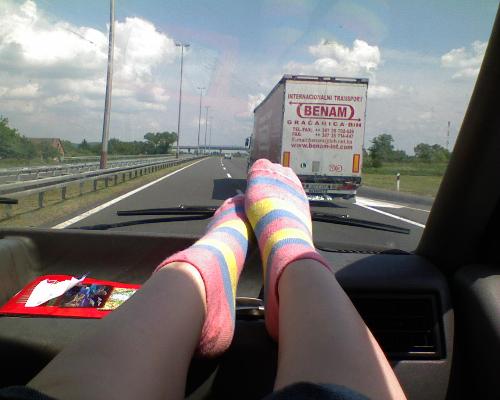 Croatia (Hrvatska)
November 23, 2007 4:31pm CST
Hello Dear Friends!!Today is the last day of election champagne!My cousin is one of candidate and we all try to help him!!I never did it before and I will never do it again!O my poor legs!From the early morning we/my hubby and children/was in 6 primary schools,2 hospitals,2 Malls,6 villages stores and on the and we take participation on the big concert on the main square!!I have to smile whole time,people ask me a lot different questions about everything!You cant imagine what they can ask?I hope that my cousin will be elected and I think he is a very good and nice but I will never do all this again!My hubby like all this and he is strong person but I prefer to stay home with family and close friends!I like to share a photo of my legs in car!!I wish you all nice weekend !Regards Silvana
4 responses

• India
24 Nov 07
It sounds very strenuos, I just hope you are feeling better now. What kind of election is it Silvana? If its state level then It's a great opportunity for your cousin to do something constructive. I feel, even though the term politics has been profaned like never before, it actually gives us a great priviledge to do good for the society at large. Good luck!

• Australia
24 Nov 07
oh come on I know in 4 years time (or I dont know how often the elections are apart) you will do it again. You will be a great politician get everyone over cook them a meal and they will love you forever and never want to live :))). I am glad it is over for now and I wish him good luck.

• Croatia (Hrvatska)
24 Nov 07
Hi Dear!!You read me as a book!!Next year we have elections for President!!That will be a job but this elections are more important for us because in our country Prime Minister is like president in US or France!Thanks for your good wishes!!See You and Regards Silvana

• United States
24 Nov 07
I also have those sore, tired legs and feet today, because of our Thanksgiving... I cooked from 8 a.m. til 2 p.m., and couldn't sit until 5:30. But everyone was well-fed, and we can have leftovers until I'm better. The things we do for our loved ones! I hope you're feeling better today!

• United States
23 Nov 07
When will we know that he won the election? With you walking all over town to help him, he must surely win. I am glad your hubby had a good time and probably this exercise is good for you, too, but now you must be glad to be sitting down talking with your myLot friends. We are glad to have you back, too.