tornadoes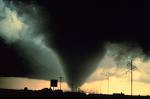 Australia
November 24, 2007 2:55am CST
i have never been in a tornadoe but i have seen them on tv but i would be terrified of them have you ever been in a tornadoe or been ever close to one and do you get scared when you hear there is one coming but in Australia we dont have them we have cyclones but i have never been througth that let me know your thoughts on tornadoes
4 responses


• Australia
24 Nov 07
hi there aaidjs thanks for your response i am glad you dont have tornado's where you are but these storng winds we do get where i am in Australia i feel sorry for the people who live near it happy posting to you

• Philippines
24 Nov 07
Hello hopejordan c",) I sure am glad that my country does not have tornadoes... I am terrified just by looking at it on tv and movies how much more if i'd be close to one. We do have here typhoons and flash floods...It's terrible to see how these calamities ruin peoples lives and what it can do to at places and people get killed. I pray for all who are suffering from these natural calamities right now. Peace to all c",) take care friend.

• Australia
24 Nov 07
hi there mycharm88 it look really bad when you see tornadoes on tv they look very scary dont they i am glad you dont have them where you are that must be bad those floods thanks for your response and happy posting to you

• Philippines
28 Nov 07
Yup really scared of those... could never imagine myself close to that...your welcome my friend c",) God bless..

• Greece
11 Jan 08
i never saw a tornadoe but i know from a friend i have that they are very dangerous and scary! i leave in greece but even if we do not have tornadoes,we have earthquakes which is the same thing! the diference is that you can see the tornadoe but the earthquake is something unexpected!

• United States
2 Dec 07

hey why is your name hope jordan? what is that? sorry you live near a tornado territory, is that in Australia? Better if you move inland. Mostly tornadoes hit the US only right? okay bye! -cliff