cheating

India
11 responses

• United States
27 Nov 07
it might be that maybe they are thinking about somebody else its very bad karma to do that not illeagal though, in most states anyway

• Malaysia
27 Nov 07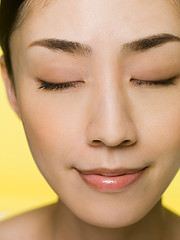 Hello wildchap. It might be your special girl right? I don't think so. Just because she close her eyes, you said she is thinking about other thing? Its not good if think bad though about her. It might be hurt if she know. Maybe she thinking about you or feel you on her or you hurting her. Don't think too easy maybe she have some problem. You should ask her and talk to her if you didn't satisfied with her reaction. Its not a big deal. HAPPY LUCKY. **prettyhanan**


• Uganda
10 Dec 07
I agree absolutley with dianel above, making love is a very private act, even when you are alone in the room, you still want the experience shielded away from the physical realms to the inner emotions which you can see with your mind and not with your eyes-its not any imagined thoughts about someone else, it is basically getting lost or better, melting away into the arms of the one at the driving seat-I know of many women who would never kiss with their eyes open, I dont believe they do so thinking about someone else-No!


• United States
9 Dec 07
It depends on the woman. Some want them open and want eye contact with their partner, others do not and wrap themselves in the moment. Then there are those that are between the two. I do not think this is really cheating, dishonorable or what have you. Of course if you know they are faking, uninterested or doing something else that triggers real red flags, then you may have something.

• United States
28 Nov 07
Very interesting obversation, certainly very true.


• United States
27 Nov 07
Aww sweety..noo most of us dont close our eeys to imagine cheating on our men...I do for many reasons..when i close my eyes..its more intense..more sensual..i guess i can feel more emotional with whats going on physical..i think about what hes doing all so well..and what i want to do next lol..i imagine us making love in different locations like the beach..i have a huge beach fantasy..its kinda all hard to explain to someone that isnt a woman and feels more emotional when in the act of making love than a man..when most of its just physical for most of them..so no..its not that were cheating..we just make it even better when we really think of how hes making us feel intimently..its truley a wonderful thing:)

• United States
27 Nov 07
They are concentrating on the feelings... it isn't automatic for women, and getting deeply into the sensations works wonders. There is no right or wrong way, chap... ya do what works! And being suspicious is a big turn-off!