Share tips to help me in my job search!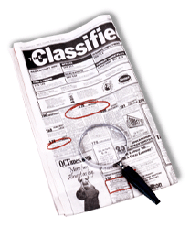 United States
October 28, 2006 9:47pm CST
I just graduated, and I need help on finding jobs. Do you have any advice for job searches, interviews, and follow-ups? Any help is welcome!
4 responses

• India
13 Jul 07
Here you can find lot of Job Searching Resources and Tips which are helpful to you greatly. http://jobsearch.247ihost.com/ I hope your Job Search Ends Here.


• United States
29 Oct 06
Personally, I say apply to EVERYTHING that even remotely fits your interests and talents, even if its not in your field of study. But, I have lived in very difficult job markets, and that was necessary for me. As for the interview, consider beforehand your strengths and weaknesses because they always ask that, and think of a few of each. One guy asked me for three and I was like, uuhh... Try to be well-spoken, but don't be afraid to be human.

• United States
29 Oct 06
If you haven't done so already, take a class on resume writing and interviewing. I found it very helpful.