Christmas is coming...do you commemorate it or not?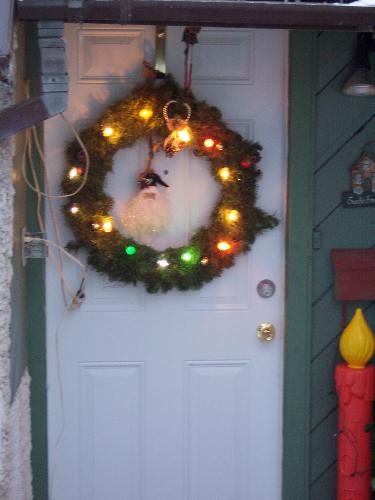 Canada
November 30, 2007 7:40am CST
I looked at the calender today and realized that it is just over three weeks and then Christmas will be here. After chatting with so many people from around the world I wondered how many of you will be celebrating Christmas this year. If you do not celebrate Christmas is there some other day of significance for you in your faith or belief system that you'd care to share?My hubby and I are not sure what we are going to be doing this year because we are still creating new traditions since my parents are no longer with us. One thing we know for sure that we will be doing is pausing to reflect on the past year and express heartfelt appreciation for the big improvement my hub's health. For us it is a spiritual time of year and we like to head back to our old home town and spend time with close friends. Our town has a caroling evening and we are going to attend that. There is something wonderful about joining others in a rousing chorus of Christmas carols. Cards will be sent out, gifts wrapped and meals shared. So that is some of what we'll be doing and I would be most interested in hearing what you are doing if you do celebrate Christmas...or if you do not how you feel about those who do. Whatever your response I sincerely wish you the best of the season and much joy in the coming year. Warm regards and holiday greetings, Raia
10 responses

• United States
30 Nov 07
Now ya ask about CHristmas and ya know I have already got the yard all lite up from all of Jimmys hard work and my Christmas town up in the house just need to get the tree up it is always last for some reason lol. We are going to daughter in laws for dinner and presents just for the kids this year for money is tight!. am sure alot of poeple on here celebrate alot of different ways for some dont but all the best to them that dont or celebrate other ways and days, we will do more around teh 29th for thats when son and his wife will get here early early in the morning like 1 am. HUgs and Christmas Cheer from my house to yours

• Canada
2 Dec 07
From the sound of it you are getting the spirit of Christmas going in ways that show the true meaning of it. Celebrating the magic of the lights and decorations, not making it about materialism and looking forward to celebrating with loved ones past and present. David and I are sending you very merry Christmas greetings...and a sincere hope that the coming year will bring more of your family's hopes and dreams to fruition. Thinking of you and hopefully we can chat sometime within the week. We will be away from home Tuesday...another Winnipeg trip...and Thursday to see the physiotherapist. Hope your therapy is going well...and not causing too much pain as you work through it. Much love and many hugs, Raia

• Canada
6 Dec 07
Wow from what you describe it sounds as though you are having a rough go of it...what a time you've had. Hopefully by the new year things will be much improved and your body will be able to really regain its strength and mobility without so much discomfort in the process. Yes hearing people sing carols is great. David and I are looking forward to going to the local Opera House on Saturday to participate in the singing of the carols and listening to local groups perform. This evening we are going to a vigil for the woman who were massacred in Montreal a number of years ago. It is held by the shelter for abused women that I have done some work with. This is the time of year to pause and be mindful of our common bonds and the larger ripple effect of choices. All back to being individual chords...but still part of the spiritual Oneness...and just one of the many reasons I love this time of year. I'll be dropping you and e-mail in the next day or so to chat more. My thoughts, prayers and candles are always with you my friend..even when we don't chat in person or on-line. Much love and big, gentle hugs, Raia

• Canada
8 Dec 07
Oh my goodness Lakota hearing what you just posted is rather alarming! Goodness to have come through so much and end up leaving because of your meds...not a choice that you want to make! Good to know you have the proper information and a more conservative course of action from now on. Please, please take care of yourself...I love and care about you...as do so many others. We need your special light on this plane...and I know by how you've approached your healing journey you have a lot you want to do before moving to the next realm! David and I are enjoying our pre-holiday plans. Our live tree was not in our budged this year...but I put a small one up Mom and Dad had in their apartment in the great room and have wreaths, lights, and many special collectibles set up throughout the house and it feels lovely and very festive...so I am happy about that. I am looking forward to the carols tomorrow evening. We attended a church service for the 14 women who were murdered in Montreal a number of years ago. We gathered with women from the shelter I am associated with and it is all part of the season...to rejoice...but also pause and reflect on our many passages. So yes we are doing good and I got a good report from my physiotherapist. She is rather amazed at how well my knee is even in the face of how much damage the MRI showed. She thinks I should be able to manage on my own and only need to come back if something else comes up. So I am thrilled about that. David is doing good and we are looking forward to a happy, healthier more prosperous New year...and sincerely hope for that and a lot more for you and your family. Holiday cheer and much love, Raia


• United States
30 Nov 07
Christmas is my favorite time of the year. (No, not the presents part of the holiday, because we have limited that down to the ground a few years ago.) I like the feelings of being in such a holy time, the spirit, and even the hustle of life. Plus, we get to see family members that we haven't seen for a while. We (my kids and I) go to midnight mass with my sister's family, and that's our new adopted tradition. May you and your husband have a wonderful season. Blessing and best wishes!

• United States
1 Dec 07
yeah someone on mylot that really understands the meaning of x mas

• Canada
2 Dec 07
Hello to both of you.. Yes, what you describe IcyCucky shows you and yours have the true meaning of Christmas in your hearts. My hubs and I have downsized the amount of gifts too. This year we will be going to church Christmas Eve as well...and are planning to go back to our home town and spend time with valued friends within our soul community. I have been playing carols for a week now and the music is so spiritual and uplifting it is a great reminder to pause and enjoy the enchantment of the season for it truly is magical when we allow ourselves to feel the beauty and special energy of it. Thanks for a lovely addition! Raia

• United States
2 Dec 07
We celebrate it every day of the year, but this is when we go to the post office to buy commemorative stamps to put on our Christmas cards. Thanks for your greeting and a very Merry Christmas to you and to all who celebrate a different holiday this time of the year, happy holidays to them as well. I know many people celebrate more than one holiday and I say the more the merrier.

• Canada
6 Dec 07
You are welcome for the greeting...and the best of the season to you and yours as well! From the sound of it celebrations are meant to bring us together and share special moments that make life sweet...any time of the year and in any culture. I agree with you...the more the merrier! Cheers, Raia

• United States
1 Dec 07
i always wanted to live in a city where you get that fuzzy feeling inside you because it is that joyous time of year again because i live in a city called anaheim in california and down here everybody is about working and doing their own thing. here you will never see carolers or anything that everybody did for christmas in the golden ages. the only place i can get the fuzzy feelings like you do is at knotts berry farm where they have all kinds of holiday shows

• Canada
2 Dec 07
Yes, that warm fuzzy Christmas feeling is very predominant in many parts of Canada, especially in rural areas like where we live. There is still a lot of 'down-home' country in this area and just one of the many reasons we love living in a smaller town. Hope you enjoy the season no matter where you are! Cheers, Raia

• United States
30 Nov 07
Everyday is a good day for me to find something to appreciate and to strengthen my spiritual connection. I take advantage of every holiday I can as an opportunity to feast... which if I did every day I would soon be as big as a blimp I'm sure. Unless I were able to change my belief that food makes me fat! That caroling sounds like fun! Do you get invited into people's homes and served hot chocolate?

• Canada
2 Dec 07
Yes my friend our spiritual path does not involve celebrating the joy of life at just one season of the year. With our eclectic spiritual perspective there are reasons to celebrate every day for the large and small blessings and epiphanies that come into awareness when our heart-mind is open to receiving them. In small towns there is a lot of hot chocolate and visiting over the holiday. Our little village is lit up with a variety of lights and the respect and honor for each other is there all year around. Part of why we left the city and we love rural life. So yes, there is still a real down-home feeling to life here and we feel grateful to have been guided here. We found our first house in Manitou while looking for truck parts in the classified section. Divine order at work...we had not idea what the town was like or who lived here. We just went on our intuitive sense that this is where we are supposed to be...and that has proven to be true. Anyway, greetings and wishing you many light filled blessings as you travel along your discovery trails. Warm regards, Raia

• Philippines
8 Dec 07
Yup, Christmas is on the air already. I just wonder why we should celebrate Christmas. Is it because it is fun and worth celebrating for? Or is it because it is a tradition? Or because someone came here so that we may have Christmas? Or did he came so that we may have Christmas or so that we have life? Whatever, Christmas for me is all about Jesus and I will to commemorate it reverently because He came to die, not so that we may have Christmas. Hope you a merry and worth celebrating for Christmas.

• Canada
4 Jan 08
Thanks for letting me know what Chritmas means to you and why you celebrate it and how. It is why I love Mylot...always new opportunities to share views, interests and beliefs. All the best you you and yours during this season, and in the coming year. Raia

• Philippines
8 Dec 07
I always love Christmas really...as much as possible we should make Christmas a rejoicing one. Giving love, gifts and food to the less fortunate or anything that is unconditional. God sees our hearts and it's nice if we can make christmas day everyday...

• Canada
8 Dec 07
Hi...we're in a flow here..as you were commenting here on this topic I was doing the same thing on yours at your site. How kewl! I included a photo there and commented about how I am currently 'all wrapped up' in the holiday season. Carols playing, wrapping presents..the house is decorated and we are going to sing carols tomorrow night at the local gathering place called the Opera House. Should be most inspiring. Yes, I agree with you...my Mom always said that the larger message of Christmas is to keep all that promise of love, hope, peace and glad rejoicings in our heart 365 days of the year! Hope this is all true for you and yours my dear friend. Raia

• Canada
7 Dec 07
I like to do the traditional things. Church, shopping, visiting friends and special time with my wife.

• Canada
7 Dec 07
Thanks for you two lovely comments. Sounds like you are a romantic guy with some traditional values. Your friends, community and wife are fortunate to have you amongst them...but I am sure they know that and make you aware of it too. Sincere wishes for you and yours during the holidays and in the coming year. Raia

• India
2 Dec 07
I love Christmas very much. Christmas is one of the best time of my year. Christmas is the time for happiness, songs, music, Christmas Carol, Christmas Father, Christmas cakes, Christmas tree, Christmas star, Christmas movies, Christmas cards, and lots and lots of good things. Christmas is the time everyone get together and celebrates. I think Christmas brings joy, happiness, peace, and love to everyone's life.

• Canada
6 Dec 07
How lovely to hear your enthusiasm for the season...yes everything you mentioned makes this season the magical, wonderful, enchanting time of year that it was meant to be. I sincerely hope that this season does bring you the joy, happiness, peace and love to your life and others across the planet. In these troubled times it is wonderful to focus on giving rather than receiving and to remember we are joined together in subtle and profound ways...even when we sometimes forget. Happy holidays! Raia

• United States
7 Dec 07
We have several celebrations in our family. My husband has the spririt early on and sets up the tree before Thanksgiving. We don't decorate it until Thanksgiving. I love setting up the decorations. One of my favorite traditions is driving around the town to view the Christmas lights. When my children were little we did this every year. Now we bring the grandkids and it is such fun. I am not sure who gets more of a kick out of it, me or the grandkids. This weekend we are having our family gathering with my Mother, my Siblings and their families. We have a buffet style dinner and everyone brings something to share. Santa usually comes to share the joy with the young ones. I love to see the light shine in their little faces when they hear that familiar "ho, ho ho". Christmas Eve is usually a time for just me and the Hubby. This year we may have our Grandson with us so it will be a thrill to see his excitement. Once he opens his gifts he will most likely head off to his Grandpa's house to celebrate there too. Christmas day I plan to visit a few of my clients who would otherwise have no visitors on this blessed day. Sad when you think that they are alone in this world. The weekend after Christmas we are having dinner with my Kids and Grandkids. We will bring our gifts at that time. Normally we have dinner at our house, but are having a "trial" run at my Son's this year. His place is larger than ours. Not sure what will come of it, but we are willing to give it a try. It had been my hope that I could get together with a few people to join voices and go out to some of the client's homes to do some caroling. Not sure if I can organize it on such short notice, or if anyone will be interested. I may ask my Daughter to join me as she has a beautiful voice. Perhaps my Mother will as well, not certain though. You are so correct with that feeling of joy and the lifting of spirits when the sounds of Christmas Carols fill the air. I send you blessed greetings Raia and big huggers to. Much love to you....Sarina