Family get togethers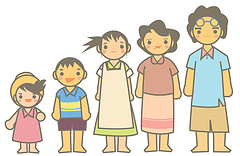 India
November 30, 2007 10:16am CST
Do you like to celebrate festivals with your family alone or would you like to have a family get together? Which do you prefer?Why?
4 responses

• China
3 Dec 07
I hope I can stay with my family and celebrate the festivals every year,but always I only have 7 days holidays in Spring festival,for it is too short and it is very difficulty to get a ticket and go home,so I have no chance to achieve this wish.However,I will let my family come to my dormitory if possible,that means we can celebrate festivals out of my home town,during that days,I will tell them where is special in another town,and we can have a good trip together.I like it,though it is not at home,but I can stay with them,so I still feel very happy.

• United States
30 Nov 07
My family gets together every holiday. On Christmas Eve we like watching Christmas movies, it's a lot of fun.

• Nigeria
30 Nov 07
Hello Yes i like joining festivals celebration with my family, i love it because is an annual celebration, it has been a traditinal celebration to my family, and it assualy mean joy.

• United States
30 Nov 07
I love Christmas Eve the best because everyone goes to my moms house. It is my family, my 3 sisters families and their kids families. We all get together for the festivities! It is always such fun. Then on Christmas we get together with my inlaws. It may sound rude of me, but I would rather this day be just for my husband, my kids and myself. We always go to my mother in laws house and my sister in law comes with her family. Our kids have nothing in common, so they don't really do much together. My mother in law and sister in law sit around talking about whatever and the men watch tv while I just sit there with my kids. I would much rather have my inlaws come over for breakfast on Christmas morning and then have the rest of the day to spend with just my family.