In memory...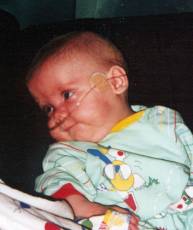 United States
November 30, 2007 12:31pm CST
so as hard as it is to believe..it was this day 8 yrs ago that my youngest child Tyler passed away...My husband and I were joking about him yesterday wondering what he'd be like right now character/personality wise and I have to say I knwo that he'd be a pistol and a bugger which is a thought that just entertains the everloving out of me LOL...Its funny because ppl dont understand how I could be okay with him dying..I wasnt always by any means but for some reason ppl think I should still be upset or something over the fact ya know...I see no point in that though..I mean all things considered he should have (and they were sure he would) died within 72 hours of being born but he didnt..we had him for 8 months and we even got to have him at home for the last two months of his life...His death sucked sure, it was unexpected and hell for us BUT it wasnt without reason..and its not like there werent benefits to that entire experience ya know...Thats how I remember my baby boy... How do you remember the ones you've loved and lossed too soon? For me its lighting a candle on his bday and anni of his death..Being able to laugh at the memories of him (he was an infant but such a ham regardless LOL)...Things like that..Do you have a hard time when it comes to birthdays/anniversaries etc?
8 responses

• United States
30 Nov 07
I'm so sorry Raven. He will always be a part of you!


• United States
30 Nov 07
there is no worry about anything 'upsetting' me..you have known me for yrs now and it should be very apparent to you by this point that I dont get upset over Tyler..havent for yrs..

• United States
1 Dec 07
I understand very well what you are talking about because Dec. 29 will make it 4 yrs. that my 4 yr. old Grandson was murdered, and the worst part is that Dec. 24 is his Birthday we still have a cake for him and sing Happy Birthday to James up in Heaven and we sit and talk about what he would be like today. Yea it is hard very hard we will never get over it but we must try to go on with life for the other children and we share the memories of James with the little ones so that they can carry his memories on as well.

• Singapore
1 Dec 07
I'm truly sorry to learn that you had lost a child at so young an age. He looked so adorable in the picture. Please accept my sympathies. You are spiritually a strong person, and that helps to sooth the pain of loss. I know how it feels to lose a family member, because I have lost 2 in the past 5 years ~ my father and father-in-law. Each year, we remember them by gathering at the columbarium as a family, think about the good times we've shared and say a prayer for them. It's just a simple ceremony, but what's more important is that we remember them in our hearts and how they have meant to us for as long as we live.

• United States
1 Dec 07
Raven, I'm sorry about this... I wouldn't know how to handle it. I think...Tyler would have grown up to be something else. Running, playing. Going to school, bringing home friends. Acting silly. And as you said probably driving you crazy but still in a very loving way. How do I remember the ones I've loved and lost too soon? Well... There are times I just call on them, what would they think and what would they say to me. Even with current issues. As for the people and the dates themselves, I do have moments of silence, or I find a nice open area or a nice nightsky to gaze out maybe thinking I could see them. I probably sound weird and stupid don't I? But that's how it is for me. Plenty of times I'm able to remember and do this normally but a few times its melancholy and there are even times I find myself shedding a tear or two due to how empty it really feels. Its not like this all the time, but it is what it is.

• Murfreesboro, Tennessee
30 Nov 07
Awww he looks so sweet and mischievous there. I have a hard time around anniversaries of the deaths of some of my loved ones. Also sometimes around their birthdays, favorite holidays, or our own silly little anniversaries, of which some of my loved ones and I had several.

• United States
30 Nov 07
That's wonderful that you do those things for him - and for you all. That must have really sucked. Just miscarrying is bad enough but to actually...well you know. Though there are times when I would almost give anything to have at least 8 months too. I love the whole lighting a candle thing but I can never remember to do it. I've never really had anyone really close to me pass on yet (aside from the pregnancies - and for those I get really sad at the anniversary and before that around my due dates - though year after year the earlier ones anniversaries gets easier). I hope to have your outlook on passed beloved ones in the future. I say we celebrate who they were after we've grieved of course.

• United States
30 Nov 07
I don't know what to say. Looking at your beautiful son brought tears to my eyes. Youu have such a wonderful perspective on what happened. I think if I had been in your shoes I would have missed the joy you get from thinking about him because I wouldn't have been able to get past the anger and sadness. You are a very strong and very blessed woman!