Miss World 2007-live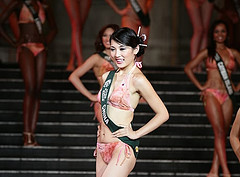 India
December 2, 2007 1:20am CST
Did you watch Miss World live last night? It was very nice to watch the 106 beautiful and talented contestants.I somehow felt that China would win.Right enough she won.What did you think?
4 responses

• South Korea
5 Dec 07
i always enjoy beatuifl and talented girls. so i am feeling sorry not to watch Miss WORLD lIVE. MY god, these beautiful and talented contestants!

• China
4 Dec 07
Miss World is very charming and talented . They show the world they not only has the beautiful out apperance but also has the great ability to win others' confirm and realize their dreams.

• China
4 Dec 07
I think very Miss is beautiful.If let me make a decision.I really donot know how to decide.In my heart,every girl is Miss right.Last,congratulate for Miss china.Have a good future.

• Indonesia
3 Dec 07
I'm not very interesting in that kind of Miss_whatever_in year something_thing, women is more beautiful when they are not compete their beauties. Women are beautiful in their own way, not just because someone or something have a grade and value bout beauty and make a competition about it.