What will be your reaction if someone laughs at you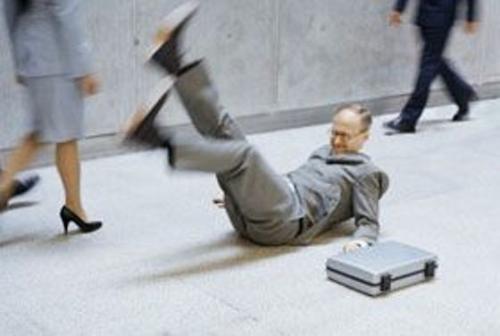 India
9 responses

• India
18 Dec 07
I guess I can do nothing about it than take it in my stride. I've had 2 big falls on the road when I was in high school (it's more embarassing when you are a teenager)...and this was in the middle of a busy road. I fell down flat (running for a bus) and scraped my knee real bad (it still hurts sometimes). My friends who were with me didn't laugh...but my cousin with his group of college friends were at the bus stop and they laughed. I was pretty mad at my cousin for sometime till he said that he didn't laugh and his friends were laughing at him (college guys are crazy - they laugh at my cousin because his cousin fell down...or maybe my cousin was just trying to soothe my hurt ego). Well..whatever the case, I got over it. If I slip and fall now, I will get up and be on my way as if nothing happened. I wouldn't wait there and see who was laughing at me!

• United States
26 Jan 08
Well I would hope that they didn't start laughing until they found out if I was OK first. I'd be laughing at myself to hide the embarassment and humiliation and would prefer that they start laughing as well, just to keep the moment light.

• United States
3 Dec 07
Well, I don't think that I'm going to be very happy with people who laugh if I fall down because they should be showing some concern since sometimes people who slip down or fall get hurt.

• United Kingdom
3 Dec 07
A big growl from wolfie! I would turn round and shoot them daggers and send them lots of bad karma! Not the right response, the correct response would be to see the funny side of it and laugh it off, but sometimes I have a sense of humour bypass! Afterwards I probably may laugh but not at the time, things are never funny and you feel embarrassed too and your pride takes a good knocking too!

• Philippines
3 Dec 07
Double ouch for that!lol! Anyway, I think that happened to me a long time ago, but I'm not really sure. If that were to happen, the first thing that I'll do is to stand up again and try to regain my composure, as much as I can. Then look to the person who laughed at me and give him or her, the kind of stare that they won't ever forget. And if that still doesn't work, I'll tell that person to be more careful when they walk because you never know, when will karma strikes.

• India
3 Dec 07
It depends upon the person who laughts at me when i fall down.. If its a strange person i will definitely stare at him before moving from the place and feel angry at her/him for not helping me and simply making fun of me by laughing..but i will not pass any direct comments at some stanger for laughing at me.. If its a known person i will feel very bad of them for laughing without helping me ..merely standing and laughing..i will make my immediate angry comments to them.

• India
3 Dec 07
Hi Bala, I have always been tripping, skidding, falling and guess what , by now I have learned to take it in my stride just as I take the sneers and laughs. I can do nothing more but to laugh with them at myself. That dilutes the situation and helps me to recover. Have a great day.

• Turkmenistan
3 Dec 07
You are assuming that this has never happened to any of us before? LOL, that is laughable all be itself. I am accident prone and for some people when I fall it is quite humorous. I have been laughed at more times then I care to count. I have learned to laugh with them, as long as I am not in too much pain.

• United States
3 Dec 07
Pride goeth before a fall. Why, anger of course. But one cannot show it because laughter is often a knee jerk reation. It comes without conscious thought. But then so does the anger reaction. Mostly though my anger is directed toward my own ineptitude. I have always been a clutz.