funny post,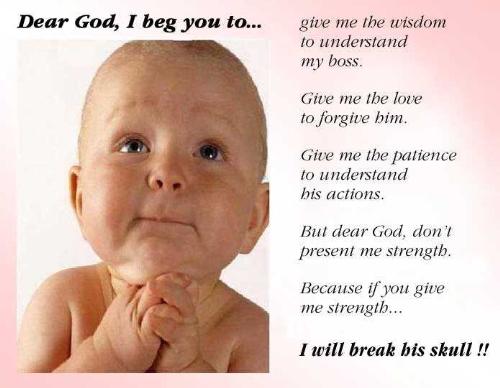 Pakistan
December 3, 2007 3:52am CST
hey i was running short of topics and one of my dear friend was bored and want me to start discussion and i was as usuall running out of good topics so i decided to start this discussion, Its all about a JUNIOR who is Praying God about BOSS i hope friends can see attach picture and read the prayers My question is how many of u agree with it??? and if u r not worrking, how many of u have the same feeling about ur partners?? i hope would get true and intresting inner sight of all pls comment
7 responses

• India
25 Jul 08
Hi cupid, that was a nice prayer that I would like to say everyday. And the kid was cute. At first I wanted to ask you if that was you. But then I read the other responses in the discussion (sorry, i dont do it always but of late I dont know why it is becoming a habit) I realized it was not you. Yes all those who are working in Offices will agree with this. Happy posting.


• United States
25 Jul 08
Some bosses can be a real pain in the bum , and make you do 2 hrs of overtime in one hour , which is near impossible . There are some nice bosses out there tho , Like me lol . I am my own boss , and when I do work outside of the house I am lucky because I work for my aunt , and my friends aunt . Most times it is all good .

• India
5 Dec 07
Well I say all these things about my lecturers I have in my college..!! Once I felt like breaking the head of one of my college teacher..!! Some times they climb up your nereves!!! :)

• Philippines
29 Jul 08
Well, Junior there are simply days when we can share the same prayer. I don't know if it is part of a BOSS' description to sometimes drive you crazy or push you to a near heart attack, but it happens... and well, maybe they don't always know it. My boss happens to be younger than I so there I times when I'm really, really exasperated that I can tell him off or put him in his place and he listens.



• Kenya
3 Dec 07
I totally agree with that prayer. I really don't find any fun going to the office. If I get strength I can crash him into tinny pieces or throw him into the shredder! Oh, no, I just want a place am my own boss. Some bosses are mere control freaks.

• Pakistan
3 Dec 07
hi friend u r right that some bosses are nice like me lol take care and thanks for ur response regards