What kind of lights do you put on your tree?

United States
6 responses

• United States
3 Dec 07
My family always used white lights, but I like to put colored ones on my own mini christmas tree.

• United States
3 Dec 07
Our tree came pre-lit with clear lights. I like both clear and colored lights. I think they are all beautiful.

• United States
3 Dec 07
I like the motion strand white lights. I put these on my tree along with lots of red bows. Then of course I have ornaments from through the years which have lots of memories behind them. Haven't put the tree up yet, need to get to work on that.

• United States
24 Dec 07
I like the multi-colored lights, but I do something a little different with them. When my girls were young, one of them wanted blinking lights, and the other didn't because she claimed it drove her nuts hahaha. After much discussion, I put up the non-blinking ones first, from top to bottom, and then I took the blinking ones and strung them inbetween the non-blinking ones and put them a little deeper in the tree branches. I always get comments from people on how much they like it, even people who don't go for blinking trees. Both girls loved my solution, and I've been doing it that way for years now.

• United States
3 Dec 07
I don't have my own tree this year but when I do I like to use lots of multi-color lights...the more the merrier lol. Sometimes I will run a strand of white lights around near the center if the tree just for a "glowing" effect. I put multicolr motion lights on the tree once. Tat was really fun. I intended to do it every year but that was they last year those lights worked.

• United States
3 Dec 07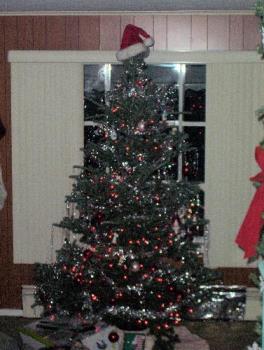 I used to use multi-colored, but now I use white lights outside and all red lights on the tree, I use silver and red balls and silver garland on the tree, and then a few special ornaments, I have been collecting a new one each year for each year that me and my s/o are together, this will be our 3rd Christmas together. I have a set of snoopy ornaments that my mom gave me about 20 years ago, each one is dressed in costume from another country, there are 12 of them.