kevin smith movies
United States
October 29, 2006 12:56am CST
what are the things that you like the most about kevin smith movies, what do you like the least about kevin smith movies and finally what other works of kevin smith's besides movies have you enjoyed?
3 responses

•
11 Dec 06
I just like most of the movies because the seem fun (except chasing amy. That was deep.) Also, because he's not afraid to make fun of something (i.e. religion.) And because they are very quotable. The least I like is the fact that he doesn't have more out there.

•
11 Dec 06
Oh, I forgot. I haven't seen his other stuff. But now I'm going to look for his An evening with dvd's.

• United States
2 Sep 07
I like the intelligence that is mixed in with the potty humor and how it is not just profane humor alone. Check out the latest Kevin Smith horror movie news as www.terrortube.com

• United States
8 Dec 06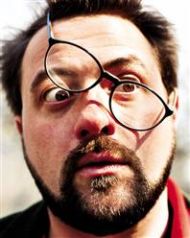 1st: I think Kevin is genius. He's hilarious person and writer. 2nd: Least about his movies? None that I can think of... 3rd: I love all the commentaries he's done (including the Roadhouse commentary). But my favorites are the "An Evening with Kevin Smith" & "An Evening Harder with Kevin Smith".