Do You Remember?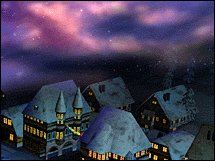 Canada
6 responses

• United States
5 Dec 07
hello my friend well lets see Dasher, Comet, Cupid Names that imply speed, quickness, and flight Cupid has wingsDancer, Prancer, Vixen Names that imply grace and nimbleness a vixen in this sense is a female fox. so here i am sitting here 230am singing this song out loud lol.heres a few but i probaply forgot some lol.Dasher Dancer Prancer Vixen Comet Cupid Donner Blitzen

• United States
5 Dec 07
But do you recall....the most famous reindeer of all~ Rudloph!

• United States
5 Dec 07
ofcourse i remember rudolph i forgot the most important one lol

• Canada
7 Dec 07
Actually I gave you best response because you have all eight reindeer. Roudolph was a very good friend of Santa but he was not one of the original reindeer. As far as I know it was Gene Autry that introduced Roudolph to the song Roudolph The Red Nose Reindeer. Remember the story, "Twas the night before Christmas?" Roudolph was never mentioned and that is why.


• United States
5 Dec 07
well there is Dancer, prancer,rootoff,&vixen,dacher,thats all that i can think of as names right now..I use to live in the hill country and i use to have 3 and 4 deer in my yard every morning...My grandson who lived in back of me, he had a deer feeder to feed the deer, and it was set to throw food down at 5:00 pm in the evening , and we use to watch the deer come up and their babies to eat..They had the Axes deer, that is the ones with the real pretty spots, then they had the regular deer ..I noticed that some of them was either scarey or shy because if a larger deer came up to where a smaller deer was eating the smaller would run and let the bigger one eat...I know that if you plant anything even a tree you have to put a fence around it because the deer will eat almost every plant available..That is about all i know about deer.They are a beautiful animal.When hunting season was on i felt sorry for the deer, but they multiply so fast they have to have hunting season to clear them out...Those deer can run a strike and jump really high, they can scale a fence in nothing flat, if a car comes down the road...

• Canada
7 Dec 07
That's OK hon not to worry. Read #1 you may be surprized.

• United States
13 Dec 07
Oh well, been an all round bad day for me so not surprised myLot would be the same - I posted in the wrong place and then didn't realize I quoted what someone else had already posted - Ok Ok, I can't read right... fun discussion though in other conversations (not on myLot) I've been amazed at how many people don't know the names...

• Canada
6 Dec 07
I don't know much about reindeer I only remember the one with red nose Rudolph, and that's because there is a song about him. In my homeland all I know about Christmas is Christmas mass, Santa and the rest comes from songs or movies

• Canada
6 Dec 07
Hi:)This is something i will never forget since my childhood,haha. "Dasher Dancer Prancer Vixen Comet Cupid Donner Blitzen" and lets not forget who helped one christmas eve when a big snow storm hit,haha,Rudolph helped with his shiny red nose"won't you guide my sleigh tonight?"haha:)I know one was rudolphs dad,but forget which one:( Peanutjar:)