How to start to tell I love you, in a critical situation...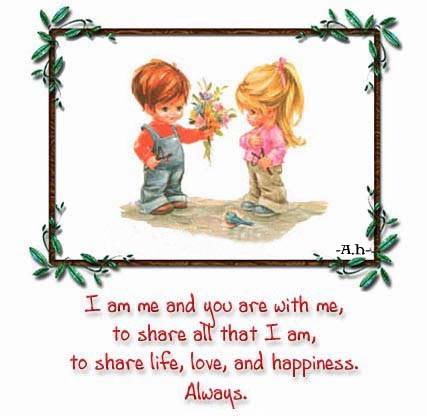 India
December 6, 2007 4:47am CST
One of my friend he started to love a girl, past one year still he cant tell to her I LOve YOu, she is his friend also, next week her marriage,my friend got mad can yu give any suggession for my friend..
3 responses

•
6 Dec 07
I must say that your friend is already to late and one careless action may has really bad effest. In this condition the most important thing is to know that wether the girl likes him or not. I think he has been able to observe her actions from past one year that might gives him a little hint wether she likes him or not. And if she doesn't then it is alot better not to tell her anything.

• India
7 Dec 07
i think your amswer is absolutely right..We all said to him same thing but this stage whatever we are telling he isnot accepting finaly we thought whterver his wish , that matter is going to tell or not he shoul be suffer. If suppose she love him means she never allow to her marriage with other person , she is right she consider he is as a friend ..but he is in very critical not having the food proper way always drinking & smoking he will not participate our any company....... any way thax for your nic e advice take care..

• Philippines
6 Dec 07
Just tell your friend to tell her that he loves her. I mean, why would he wait for eternal regrets. If he would say it, I guess, he could move on and accept the fact that the girl is meant for someone. Or he will be forever fixated to the girl with the "what ifs".

• India
7 Dec 07
the reason is her marriage fixed last week now he cant adjust, he said iam an too late if i will not marry her means ,i will not leave withuot her i cant like that we all friend tell to him please try to understand if she love s yu means she never allow to her marriage fixing like that progarm, she consider yu as a friend thats all..We dont know we will explain the realise thing of our friend now whterver we will tell he is not accepting anything .. Ok thax for your advice bye have a nice day..

• India
6 Dec 07
Does it require a great strength mentally or physically to tell a girl I love. He should straightaway introduce himself and tell the girl I love you. What is worst answer? NO, I do not love you. Your friend should not ask why she doesn't love him. He should repeat his question couple of days leter. May be 3rd time. If she totally rejects, better look for greener pasture.

• India
7 Dec 07
the reason is he knows her past one year she is his friend ok , so many times he tried but he thought she may be leave his friendship also thats why he kept quit , now her marriage also fixed he is totaly upset, now she missed means he got mad.. Thax for your advice .. Thax alot bye take care.