The holiday season can be stressful...what do you do to manage stresses?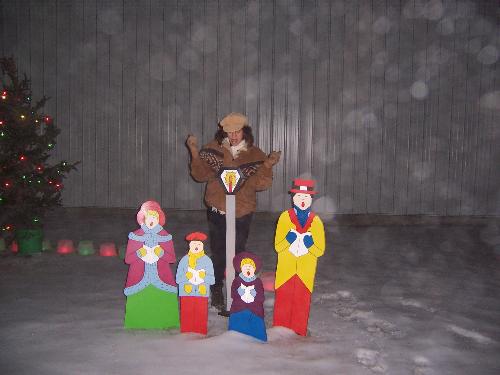 Canada
December 6, 2007 10:56pm CST
We went shopping for a few Christmas items and as I observed people rushing around in a mad dash while dragging their screaming children by the arm I couldn't help but pick up on 'holiday stress vibes.' In North America it seems that it starts right after the United States has their Thanksgiving and builds up until the end of the year. Then there is what I call the January Blahs...in fact I posted something on my Blog about how to avoid them if you are interested in reading my December posts. Address there is: http://pohl-perspectives.blogspot.com Anyhow my shopping trip gave me reason to pause and compare how the holidays used to be more stressful for David and I than they are now and I wondered if your your stressors go up and to what degree...and how you manage it if and when it does. We find the holidays much more balanced since moving to the country and away from the hustle and bustle of city life. I also begin my shopping right after Christmas. My Mom always had a box in the linen closet and she began choosing gifts for the next year right after the last one is over. She picked out items throughout the year and by the time Christmas came she had most everyone on her list bought for. I liked the idea and do the same thing. So shopping during the busiest time of year with long line ups is a stressor I am happy to avoid. Family gatherings with all the mixed dynamics used to be stressful...but now with my folks passed on we choose to spend time with valued friends within our soul community and we love being with them because we don't see them as often as we'd like and our gatherings are relaxing and enjoyable. Our holiday season is spent in a spiritual way that is also aligned to the Winter Solstice as well as Christmas itself...so we view this season in a context that incorporates our spiritual perspectives. It wasn't always this way and I can remember when the holidays were a lot more stressful than they are not. I'd love to hear your views on this...maybe we can share ways to keep the joy of the season up and the stress factor down. Warm regards as always, Raia
7 responses

• United States
7 Dec 07
This year i kelp the stress down by ordering most of my gifts from books.I have a couple of accounts so i ordered from them.I also ordered a few things from Walmart on line and that helped a lot..I just sit back and waited for my orders to be delivered to my house...All the shopping i did was i went to the dollar store and got all my wrapping paper, tape , and bows and brought it all home and waited until my gifts arrived and then i wrapped them..I have been very pleased with what i bought.I feel like i might just do this from now on.I did not have to fight crowds...

• Canada
7 Dec 07
Season's greetings...and thanks for the great input on how you are keeping stress down and enjoying the season while you do it. I think you are so right about preparing for the holidays in a more leisurely, planned out way. It would appear that those who get messed up and stressed out about the holidays are those that do not that and then get caught up in the intense energy towards closer to Christmas Day. Great idea, good planning and I can see why you would continue with it. Hope you and yours enjoy the fruits of your efforts and have a great Christmas! Cheers, Raia

• United States
8 Dec 07
Oh it has been so much better this way.I just went into a store today with my sister, to pick up a cleaning item , and everything was just a mess, where people has thrown stuff everywhere,Thank goodness I missed all of that..Thank you and i do hope you ans your family has a great holiday.

• Canada
15 Dec 07
Thanks for coming back...yes, the mess, clamor, intensity of people frenetically 'shopping until they drop' is a scene that my hubs and I are no longer a part of...and thankfully so. With the place you and yours and we have arrived at it sounds as if we have new priorities straight and life feels good to be living a simpler, more focused lifestyle. Best of the season to you and yours as well. Raia

• United States
7 Dec 07
The only thing I have trouble with is finding the right present for that person. andI go from store to store to find it sometimes. as this year is tight on the purse strings I am only buying for the 2 grand kids here. no stres just neem to get out and do it lol. I never stressed no used to it take my time and have fun picking out the presents. adn I do think the word stressed is over done alot dont you? and if it is all that stressful to some poeple they now can go on line to buy with no hassle of the stores hugs and blesings

• Canada
7 Dec 07
Hi friend, Yes, choosing the right gift can take some time and effort...but always worth it to add some happiness to the lives of others. Sounds like you also have everything under control and I know that you are not a person who stresses about too much. You have illustrated that time and time again with your challenges during the last few months. And yes, I totally agree that stress is a word that is over-worked and over-used and sometimes is an excuse for bad behavior! (smile) Anyway, good addition as always...we'll be in touch. Love and hugs, Raia

• United States
8 Dec 07
yup ya got it the word stress can be used for an excuse for bad behaviour and I hope you dont use it for that lolololol.-) The only thing I get upset about is when bills come inand say they arent paid when Ya know ya made a payment ! grrrrrrrrrrr! any way thats anothr story. no stressing this year like I said am buying 2 presents one for Joesph and one for Chey lol hugs and blessings

• Australia
7 Dec 07
You have to be mad to get stressed about Christmas. There are a lot more important things to get stressed about. Real problems. That is what I get stressed about.


• Canada
4 Jan 08
Thanks for your comment on the photo...yes, I love Chrismas and take great pleasure in picking out special gifts for special people. My mom started her shopping right after the holidays and I do the same thing...always on the lookout for presents that will show others my appreciation for them. Anyway, try not to work to hard...and all the best of the season. Raia

• Abernathy, Texas
15 Dec 07
RAia, a little girl in our little community - our landlords daughter is named Aria - not like Aria as in opera but uhryeuh. I avoid the mall even when its not Christmas. I get sensory overload and can't think of a thing I want, and get too exhausted to just look. I live in a small community outside Albuquerqe made up of like minded people and I have to say its pretty unstressful here. Lots of animals, my baby, my little family. If I do get stressed, I pick up my baby and dance - if the baby is stressful, I take a long bath or shower when I can. Handing him over to his dad. The only sad thing this year is not being able to see my mom - not because of the season - I'm not too into Christmas - I do like the light shows though - but because she's sick and it would make her happy to see us. Soon. Very soon. Warm regards blown right back to you. Amy

• Canada
4 Jan 08
Hi...sensory overload can be a problem at this time of year. I appreciate your openness and honesty about how the season makes you feel...many have similar emotions and with good reason. Anyway, thanks for adding your input...it is a pleasure to bounce ideas around with you...and you certainly feel like a soul sister in the similar resonances we share. Caring thoughts and well wishes, Raia

• Abernathy, Texas
8 Jan 08
Hello my friend. You should know that your discussions and sense of you invite openness. Feel free to E-mail me anytime!

• Canada
8 Jan 08
Ahhh...how nice to hear that...thank you...and I will! Warm regards, and a sincere wish for a happy, healthy, abundant 2008! Raia

• Canada
18 Dec 07
I;d like to say drinking... but it being the holidays I will go for quiet time instead. If you allow yourself quiet time an hour a day it does amazing things to keep the stress level down...

• Canada
8 Jan 08
Sounds like a great lifestyle coping tool to me. Good one! Raia

• Canada
8 Jan 08
Sounds like you've figured out a very workable plan. I like it because my hubby and I do things in a similar way. Yes, it does keep the stress down alright. Raia


• Canada
9 Dec 07
Thank you cosylvia for adding to the discussion..and I may you also enjoy Christmas. Good to know that those in your country are ready for the day...and the season. May it be all that you hope it will be. All the best to you in the coming year as well. Raia