Cancer Candle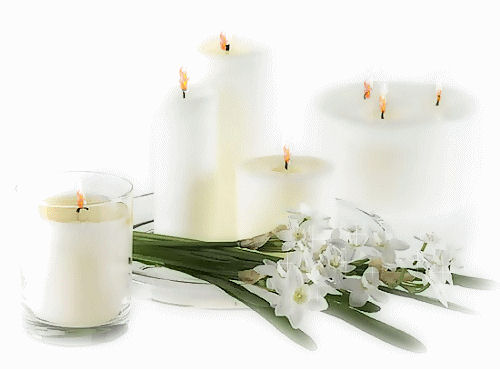 United States
December 7, 2007 2:09am CST
All you are asked to do is keep this circulating. Even if it's to one more person. In memory of anyone you know that has been struck down by cancer. A Candle Loses Nothing by Lighting Another Candle. Please Keep This Candle Going! I just received this from my sister... my beloved brother-in-law, who has worked so hard the past year and gone through so much to get his cancer in remission, needs all the help he can get in the way of wishes and prayers. He was diagnosed with stage 4 multiple myeloma, which is considered terminal. He went through chemotherapy to destroy it, and a grueling stem-cell transplant to make him whole again. He has been cancer-free for a year, but with all immunities gone. He has been stricken with... chicken pox!, a childhood disease which, in his condition, can be fatal. He is a warm, loving, religious man who would appreciate a mention in your prayers. He has spent the last year playing with his band, for free, at church gatherings, weddings and parties. Their website is: http://profile.myspace.com/index.cfm?fuseaction=user.viewprofile&friendid=274754279 These are such wonderful, giving people, and so deserving of our support!
5 responses

• China
7 Dec 07
I am sorry ,I read your message,but I can't understand .maybe my english is so poor.what's the relationship between the cancer and candle??why I keep this candle going??could the candle save the people who got the cancer?or give the hope to this people?if it is true i'd like do this.

• United States
7 Dec 07
You understand very well... it is to remember people who are gone, and to give strength to those who are still fighting so hard. It is also comforting to the families, and helps keep awareness of the different kinds of cancer traveling around the world.


• United States
9 Dec 07
I can't imagine the courage you both possess... I've had more than my share of injury and pain, but this thing is like battling a monster, its in there and you have to kill it without doing too much damage to yourself!! Its nearly incomprehensible! We will hold you in our hearts as well, and believe that the best will happen for both of you!


• United States
8 Dec 07
Thank you... hope is high right now because of a new medication. More money and research should go in the direction of curing cancer... the treatment he had was dangerous and experimental, but he was willing to try for the sake of future victims. He is a hero to me!

• United States
8 Dec 07
My family just went through this very hard. It's terrible to watch a family member twiddle down to so little then die. I am so happy to read your post. It's wonderful to hear of others are making it through. I wish all the patients the best recovery ever. It is a very long road to travel and a hard one at that.

• United States
8 Dec 07
When he had his transplant, my sis took pictures... what I had imagined was nothing like what it was. They met many good people going through the same thing and formed lasting bonds. Sadly, several of those people are gone now, but the families will remain friends always. It is a living hell... my heart goes out to you and your family.

• India
7 Dec 07
Sorry to hear this devatating news.My prayers and support are there for your brother-in-law,your sister who stands by him and to all the other family members who are affected by this news.May God give you all the strength,support and comfort in this hour of need.I will go to the site mentioned.